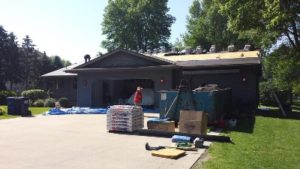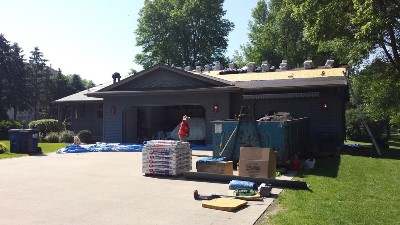 Storm damage is something that we can't prepare for as a homeowner. Mother nature can be very volatile throughout the year. Most of the time our homes aren't damaged by storms, but if the conditions are bad enough, damage can definitely occur. If you've recently experienced storm damage at your home, it's important to reach out to an affordable storm damage repair contractor that also has plenty of experience. That's exactly what you get when partnering with our storm damage experts at Refuge Roofing & Siding. We're Minnesota's premier storm damage repair contractor and we're eager to help.
Affordable Storm Damage Repair Contractor
Anytime unexpected damage occurs with your home, there's a lot of stress that you are dealing with. You're worried about not only the damage to your home, but the financial impact that it will have on your family as well. At Refuge Roofing & Siding, we're here to help manage your stress during this difficult time. Our quick response time, elite repair specialists and affordable pricing are just a few of the reasons why choosing our staff as your storm damage repair contractor will pay dividends down the road.
Insurance Claim Assistance For Storm Damage
Dealing with the insurance company after storm damage occurs is another aspect of the process that many homeowners dread. Well, the good news is that our team specializes in managing the process around your insurance claim. With more than 50 years of storm damage repair experience, you can bet that we've worked with most insurance companies in the past. One of our licensed storm damage consultants will come evaluate the damage at your home caused by the recent storm. We will work directly with the insurance adjuster to ensure that they notate all of the damage caused by the storm. Prices will be negotiated so that you as the homeowner never have to pay more than your deductible, making these repairs much more affordable. If your insurance claim isn't approved by your insurance carrier, then there's absolutely nothing that you owe our team.
If you are dealing with storm damage and you're looking for the most affordable storm damage repair contractor in Minnesota, look no further than our experts at Refuge Roofing & Siding. Not only are our prices affordable, but our insurance claim assistance also cannot be matched. To set up a free storm damage evaluation, pick up the phone and call us at (651) PRO-ROOF.