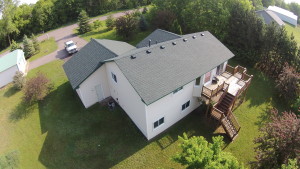 When looking for an Andover roofing contractor, keep in mind Refuge Roofing & Siding has the best GAF roofing materials. If your roof is showing signs of needing an experienced Andover roofing contractor, make sure you look for a company and contractors that have the proper qualifications. Our professional roofing specialists have spent years on the roofs of homes and businesses. Our contractors have spent many hours in the classrooms, seminars, and every way we can to receive more knowledge and training. The dedication our company provides in the trades we specialize in shows – before, during, and after every task. Keep your home in the care of our professional Andover roofing contractors, call us today!
Professional Andover Roofing Contractors
Choosing a professional roofing contractor over the average Joe is always the best choice. Your hard earned, long term investment should be put in the best of hands. Your home deserves the best and what would be better than a certified professional roofing contractor to perform your essential roof service needs? When upgrading your old roofing to new choose from:
Steel Roofing
Asphalt Shingles
Cedar Shake
The value and protection will go a long way! Commonly experienced roofing contractors recommend replacement after 10 – 15 years. Our certified roofing contractors are qualified to stop by for a hassle free estimate or inspection at your convenience. After a detailed diagnosis our professional recommendations come into play. From there the choice is yours! Give us a call today for the best materials installed by local and insured roofing contractors!
Help Protect Your Home
Help protect your home against the elements that can cause many issues inside, as well as on the exterior. Rain, snow, sleet, hail… They will destroy the asphalt shingles after time and disintegrate like Antarctica and Greenland are projected to. The boiling sun melting and hardening with the chilly nights cause stress as the years pile on. Santa Clause and his darn reindeer are chipping away at your roof each year, or at least it may seem like it, so get an inspection. Help protect your home from starting at the first and foremost spot. Up top. Where everything starts and is the biggest target. Refuge Roofing & Siding will help as your licensed roofing contractor in Andover. Give us a call to set up an appointment today!
Save
Save
Save