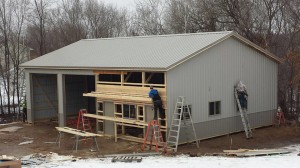 An Andover siding replacement contractor is just a phone call away. Whether it is from the aftermath of a storm or just an upgrade, we have every thing you need. Here at Refuge Roofing & Siding we have experienced project managers on staff to help you with an estimate, rundown of the duties, and if any warranty issues need tending we will be there for you then as well. Having the perfect exterior is just as important to us as it is you. We have many years of experience with top quality materials, for your siding replacement needs give us a call for your professional siding replacement contractor in Andover MN.
Contractor Tough Siding Materials
Having the right material for the job is a must for long lasting beauty on the exterior of your home. Our local siding replacement contractor can thoroughly go over all of our top of the line products if you have any questions. We know there are many different style tastes out there and understand the importance of having a project done to exactly your wishes. Our top rated materials consist of:
Vinyl Siding– The more common and affordable design still holding up to its name protecting your home with a lightweight and strong material. Our vinyl siding contractors are experienced in removing and installing new exterior around the Andover MN, area. For an upgrade or repair give us a call today!
LP® SmartSide® – A beautiful treated wood style of siding material comes in a cedar look of lap or panel. LP® SmartSide® comes in many colors and lengths to professionally tie in your humble abode. A great alternative to the traditional siding options,  we provide nothing but the best materials for your dream home.
Vinyl/Polymer Shake– Having vinyl/polymer shake applied to your home is great when buttoning up the gable ends and using LP® SmartSide®. Or if you would like the cedar shake look throughout the whole house but do not want the upkeep behind it a vinyl shake can make all of the world of difference!
Steel Siding– Having a siding that can withstand mother nature is a must in Minnesota. From cringing cold to sticky and warm our elements can put up a fight, we know your home needs proper protection. With a sleek look our large steel siding options protect and look great with seamless siding. For a steel siding specialist in Andover MN, give us a call!
Cedar Shake– The upkeep on cedar shake siding is worth the time when transforming a new home to a traditional or maintaining your Nantucket style home. Treated to keep insects and water away your new authentic cedar shake siding is designed to be proactive as well as elegant. A professional cedar shake contractor is but a phone call away!
Siding Contractor Andover MN
Every different siding option is individually taken care for. From the application to warranty, our diverse options are the best in the industry. Our experienced siding contractors will have all of the information on any type of siding you and your family choose to apply. Don't let the storm damage ruin your day, or dread of updating the fading siding on your home. Here at Refuge Roofing & Siding we thrive to provide nothing but the best with the best service around, give us a call today to speak with a qualified Minnesota siding contractor and let us help spruce up your home tomorrow (651) PRO-ROOF!