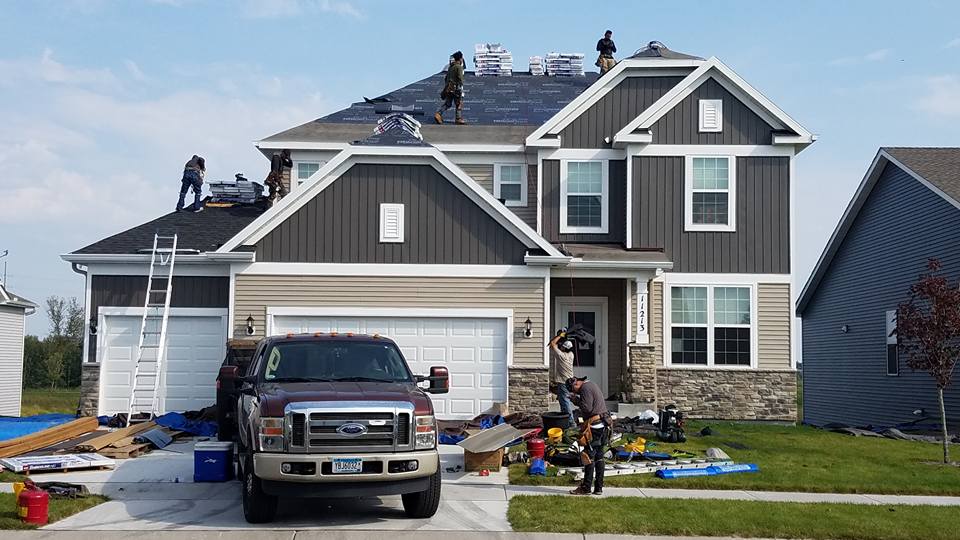 At Refuge Roofing, we take pride in being the premier Anoka exterior contractor. Getting to where we are today didn't come easy. As a licensed and insured general contractor, we've got the experience and expertise to handle all types of exterior repairs or renovations. There's no reason to choose multiple exterior contractors for various projects when you can choose Refuge Roofing to handle them all!
Exceptional Exterior Contractors
When it comes to serving our clients, transparency is key. With every residential or commercial exterior project that we take on, we keep our client in tune with all aspects of the job from start to finish. We deal with any of the headaches so that you don't have to stress out. Another way that we are able to provide transparency to our clients is by offering a free, no hassle exterior estimate and consultation. During this inspection, we will document all of the damage that is found and will also provide you with a detailed breakdown of the estimated costs. There are no hidden costs when it comes to working with our exceptional exterior contractors at Refuge Roofing. If you're not satisfied with our estimate, you can simply walk away from our offer and there will be no hard feelings.
Professional Exterior Services
When we say that we can handle all of your exterior repair or replacement needs, we mean it! If you are looking for an Anoka exterior contractor to handle it all, you've found the perfect partner with Refuge Roofing.
The exterior services that we specialize in include:
Insurance Advocates
If the reason you need exterior work completed on your residential or commercial property in Anoka is due to a recent storm, it's important to have an exterior contractor on your side that doesn't shy away from working with insurance companies. At Refuge Roofing, we will work directly with your insurance company to ensure that all of the damage caused by the storm is addressed and nothing is missed. To make it easy on you, we do the work based on the agreed upon price by the insurance company so that you're not responsible for any additional costs above your insurance deductible. Our goal is to take the stress and anxiety out of having to deal with the insurance companies after storm damage has occurred.
If it is time for you to invest in some exterior property upgrades or if you've recently had damage occur to your property after a storm, our exceptional exterior contractors at Refuge Roofing are here to help. Serving Anoka, MN, give our exterior contractors a call today at (651) PRO-ROOF to request your free estimate.