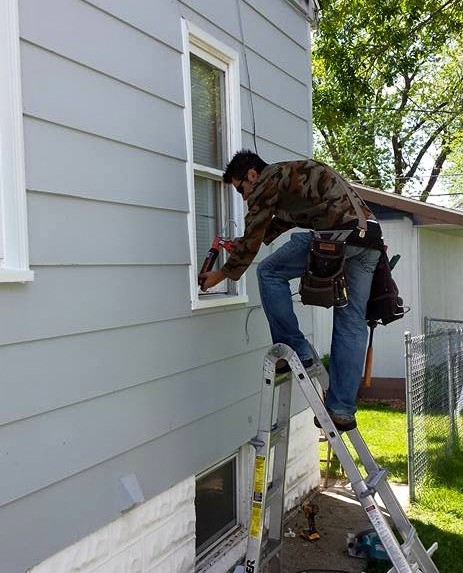 Having a professional window replacement contractor near Elk River is beneficial when making updates to commercial or residential properties. Here at Refuge Roofing & Siding we keep pushing ourselves to mastering even more trades than what is just in our name. Going further into the skills we love is an accomplishment we take pride in. Our craftsmanship shows in every duty we perform either at your office or your cozy home. Our energy efficient materials will save you money keeping your heat bills down while looking elegant and performing top notch. Having a top rated window replacement contractor in Elk River stop by your property for a hassle free estimate is just a phone call away!
Professional Window Replacement Contractor Benefits
Everyone knows a guy when it comes to window replacement. Although just being familiar with the process does not quite give the average job any more of an upper hand than one may presume, it is different when talking about a professional window installation. Remember professional window replacement benefits start instantly and hold out for the long run. Having a professional crew that knows what they are doing complete the job and clean up the mess is so much easier than putting the task on your shoulders.
There is also picking out the best window, for instance, our energy efficient Andersen Windows are top of the line on the market today. Being a certified Andersen Window installer, who do you think will be able to get you the best price, us or the department stores? Having a trusted contractor company on your side ultimately will save you money and even more valuable, your time. Spend all those extra hours doing something you enjoy, let us take care of updating your office or home.
Having a professional window replacement company handle your delicate home is the best choice, our insurance is designed for you, the homeowner. We do this for a living, day in and day out. We can be there till the job is done. Trust your gut, go with the local and licensed window replacement contractor around Elk River to correctly install your new windows the first time.
Being in the industry as long as we have, we have fixed and seen it all. We stand behind our work and our products. By choosing the right company here at Refuge Roofing & Siding you will too "know a guy" and an expert window replacement contractor in Elk River MN at that. Give us a call today and let us help you get your windows upgraded (651) PRO-ROOF!