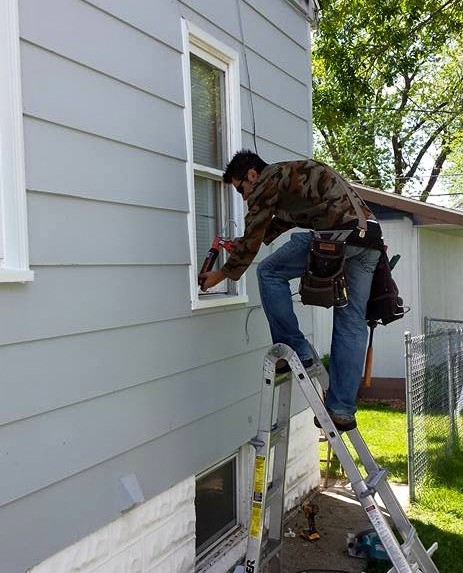 Upgrading your outdated windows to finely tuned products of solid construction is always a great idea. Even for homeowners looking to uproot and relocate. Having your home at this time is a sellers' market…yet many homes continue to stay listed. By up-keeping your home you will add value as well as protection, and an upper hand if you decide to put it on the market. By maintaining your window's you also save money monthly by decreasing the airflow between your business or home and the outdoors. You don't want to throw your hard earned money out the window, give the best Ham Lake window replacement contractor who installs amazing Andersen windows a call today here at Refuge Roofing & Siding for a hassle free estimate, your home, and your pocketbook will thank you!
Our Outstanding Window Replacement Products
Having the best materials cannot just be said, it has to be proven. Time and time again our local engineers here in Minnesota that have created Andersen Windows & Doors keep on winning awards from sources such as Energy Star. The products we put into homes are always the top of the line when it comes to battling the nasty winters or attempting to flee from the suns' heat. Keeping up with the knowledge of what is on the market so we can supply nothing but the best is an attribute we live by. Whether it is replacing siding or windows let us help you replace your old with the new. Give us a call today for your window replacement needs in Ham Lake MN!
Contact A Professional Window Contractor Ham Lake
Having an experienced, local window contractor near Ham Lake perform upgrading to new energy efficient replacement windows is always a beneficial idea. Our licensed and insured contractors are equipped with the protecting documents for any unforeseen events keeping everyone safe. The knowledge and know-how shows in the craftsmanship after the finished product is complete. Working with a professional window contractor also gives you the satisfaction that the job at hand is being done correctly and all of your questions are being answered thoroughly. Whether the task is located at your home or business our crews treat your area even better than they treat their home. We also deal with the insurance companies in case of any storm damage claims. No mess, no stress, you are in extremely able and very helpful hands when choosing Refuge Roofing & Siding for a visit from your new replacement window contractor around Ham Lake MN! Our professional window contractors are the best around, give us a call today to set up an appointment (651) PRO-ROOF!