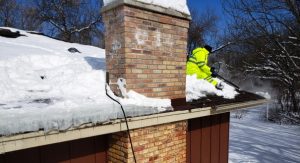 If you've dealt with ice dams at your home or business, you understand the frustration and potential damage that they can bring. At Refuge Roofing, we've been especially busy this winter with ice dam removal due to the harsh winter storms we've encountered in Minnesota. One of the areas that we're most passionate about after this busy winter is ice dam prevention.
Ice Dam Prevention Methods
Most companies simply offer ice dam removal services and don't see the need for ice dam prevention. At Refuge Roofing, we're much different. We think that ice dam prevention is key to protect your home, or business as well as your peace of mind. Below are a few ways that we can help prevent ice dams from ever occurring in the first place.
Heat cable installation – We have seen great success installing heat cable along the edge of roofs. This heat cable helps to prevent new ice dams from forming along the edge of your roof.
Blown in insulation – One of the primary reasons ice dams form in the first place is due to a warm attic. This warmth is often due to warm air escaping from your home and making its way up into your attic. Thanks to blown in insulation, we can ensure that your attic stays cooler thus reducing the likelihood that warm air will make its way to your roof and in turn cause ice dams. Blown in insulation can also help to reduce your energy bills.
Add proper roof ventilation – Ventilation is another key way to prevent ice dams. If your roof isn't properly ventilated, warm air can become trapped resulting in ice dams on your roof. Ventilation can be added through ridge vents or soffit vents. The reality is that it's difficult for your roof to have too much ventilation, so talk to the team at Refuge Roofing if you feel like you're in need of additional ventilation.
Ice Dam Prevention from Refuge Roofing
Are you tired of dealing with ice dams each and every year? Have you experienced damage to your home due to ice dams? If so, it's time to think about ice dam prevention techniques to ensure you never have to deal with these annoyances ever again. Pick up the phone today and give Refuge Roofing a call so we can show you how you can finally say goodbye to ice dams at your Minnesota home. We can be reached anytime by phone at 651-PRO-ROOF.