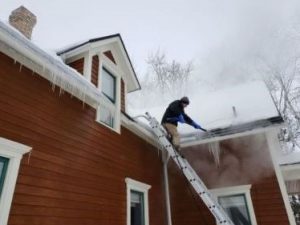 As a homeowner, it is important to take the steps necessary to protect your home, even during the winter. While snow and ice make for a beautiful picture of your home, this type of weather buildup can do significant damage to your home. Commonly, many homes in Ham Lake, MN struggle with ice dams. The good news for you is that our team at Refuge Roofing & Siding specialize in ice dam removal services for the Ham Lake, MN area.
Ice dams buildup on the gutters of a home. They are obviously a hazard to homeowners, because you never know when they may break and come crashing down on the ground. Homeowners better hope that they are safely away from the ground when these large ice dams break apart. This isn't the only threat that ice dams can bring to your property. Ice dams form are the edge of your roof, preventing the snow that has built up on your roof to properly drain through your gutters. In turn, this causes the water to back up and adds a lot of pressure on your roof and gutters. These water pools that build up behind the ice dam can definitely cause water damage to your home. Next thing you know, there's water leaking through your roof. This can turn into thousands of dollars damage. So, as a homeowner in Ham Lake, MN, you can easily avoid the threat of water damage because of these ice dams simply by letting our staff at Refuge Roofing & Siding perform our ice dam removal services.
Low Pressure Steamers For Ice Dam Removal
Ice dam removal isn't a project that you should try and take on by yourself. Instead, leave it up to our experienced professionals at Refuge Roofing & Siding. We have low pressure steamers that are the perfect tool to remove your home's ice dams. What is great about us using low pressure steamers is that there is no risk of damaging other parts of your home during this removal process. Other ice dam removal companies use pressure sprayers to remove ice dams, which commonly cause damage to the shingles of your roof as well. Through our high temperature steamer and low pressure, we're able to remove the ice dam from your property safely.
Ice Dam Removal in Ham Lake
If your home in Ham Lake, MN regularly has ice dams form, it's time to lean on Refuge Roofing & Siding for assistance. To learn more about our ice dam removal services in Ham Lake, MN, give us a call today at (651) PRO-ROOF.