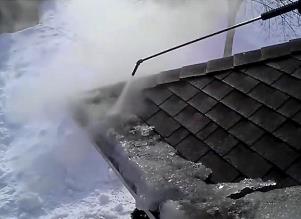 This winter, at Refuge Roofing, we've been extremely busy handling a huge influx in calls to remove ice dams. This is largely due to the severe winter we've had here in Minnesota, and so we've been working on a way to help you remove ice dams once and for all. Read on to learn our approach to ensure your ice dam problem is gone for good!
Our Ice Dam Removal Process
While we've been removing ice dams in the area for quite some time, this year has been especially severe. In fact, once we started receiving calls to remove ice dams twice in the same year, we thought it was a good idea to develop a more robust process to help our customers get rid of ice dams one and for all.
Our ice dam removal process involves a multi-pronged approach to help you take care of the problem and ensure your house is properly protected against the serious damage that can occur due to ice dams. Below is the step by step process we're currently providing to our customers with great success.
Low pressure steamers – Our first step involves using low pressure steamers to remove ice dams from your roof. This should be only done by an experienced ice dam removal company like Refuge Roofing. Without the right equipment trying to remove ice dams can be extremely dangerous.
Heat cable installation – To help prevent new ice dams from forming, we can install heat cable along the edge of your roof. This cabling ensures that new ice dams will not form on your roof.
Blown in insulation installation – One of the reasons ice dams form in the first place is due to warm air in your attic that has escaped from within your home. By installing blown in insulation in your attic, you'll ensure that your attic stays cooler in the winter, thus reducing the chance of ice dams. In addition, you'll also see decreased energy bills in both the summer and winter thanks to the new insulation.
Ready to Get Rid of Ice Dams for Good?
If you're tired of dealing with ice dams year after year, give the pros at Refuge Roofing a call today at (651) PRO-ROOF to schedule a free estimate. We've been providing ice dam removal services for decades and would be happy to help you better understand how to get rid of ice dams once and for all.