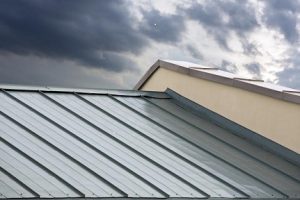 A metal roof is a great investment to have if you live around Oak Grove, Minnesota. Metal roofs hold up well against any type of weather that mother nature throws our way. So, if you've got an old metal roof that needs to be replaced, or you are looking to try out a metal roof for the first time, our team at Refuge Roofing should be the only roofing contractor in Oak Grove, MN that you put your trust in.
It should come as no surprise that a metal roof is extremely durable and built to last. That's why most of our metal roof replacement options are backed by a 40-year warranty or greater. An investment in a metal roof replacement from Refuge Roofing means that your home will be protected for decades to come. Additionally, this offers a great return on investment as many potential home buyers prioritize a strong, healthy roof as something that they are looking for.
Other Metal Roof Benefits
The benefits of a metal roof replacement don't stop at being durable and long lasting. Metal roof replacement will provide your home with exceptional energy efficiency as well as provide protection against damage from high winds, fire, and heavy snow accumulation. Our metal roof replacement is available in a wide range of styles that will surely match your existing home. Rather than have a roof that is an eyesore, invest in a metal roof that will help bring the overall look of your entire home together.
Long Lasting & Durable Metal Roof
Now that you've decided on a metal roof replacement, let us provide you with a few more reasons why Refuge Roofing is the right team for the job. First and foremost, our metal roof experts are fully licensed and insured. Additionally, we will gladly work with insurance companies if you need to file a roof damage claim. To help minimize the stress of this investment, we even offer a no obligation, free metal roof replacement estimate to all of our clients. This will allow you to get a realistic idea of the expected costs around your metal roof replacement project.
So, if you are in Oak Grove, Minnesota and are interested in learning more about metal roof replacement options, our team at Refuge Roofing is the ideal partner for you. To request your free estimate today, give us a call at (651) PRO-ROOF.