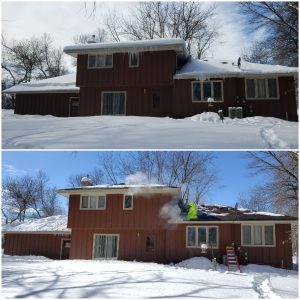 Are you currently dealing with ice dams at your home or commercial property? If so, feel free to reach out to Refuge Roofing for our ice dam removal services. We have decades of experience helping Minnesota homeowners protect their homes from the dangers of ice dams. Feel free to reach out to our team today if you're interested in learning more about our ice dam removal services.
Tips to Help Prevent Ice Dams
Keeping your roof free from snow and ice can be difficult, especially during the harsh winters that are all too common in Minnesota. At Refuge Roofing, we're well versed in helping our customers keep ice off of their roofs. We first close off all attic bypasses to help prevent heat from traveling through the attic to the roof, which can cause snow to melt. We also can help you ensure you have the proper amount of insulation in your attic to help prevent ice dam build ups. We use blown-in attic insulation, which can not only prevent ice dams, but cut down on your energy bills as well. Finally, proper ventilation can help to cut down on ice dams. Having the proper number of soffit and roof vents is critical to ensure ice dams don't start at the edges of your roof.
Heat Cable Installation for Ice Dam Prevention
One way that our team at Refuge Roofing helps to prevent ice dams from forming in the first place is with heat cable installation. We can install heat cables along the edge of your roof which ensures ice dams will not form.
Don't Try to Remove Ice Dams on Your Own
Attempting to remove ice dams on your own can be extremely dangerous. Don't risk injury by attempting to get rid of ice dams without the help of an ice dam removal team like Refuge Roofing. We'll help to not only get rid of any ice dams you currently have, but also take the necessary steps to ensure you're not dealing with ice dams in the future. With the harsh winters we've been dealing with as of late in Minnesota, it's critical that you have a plan in place for ice dam removal and ice dam prevention.
Reach Out to Refuge Roofing Today for Ice Dam Removal
Don't wait another day worried that ice dams may be damaging your roof. Instead, simply pick up the phone and give Refuge Roofing a call today at (651) PRO-ROOF.