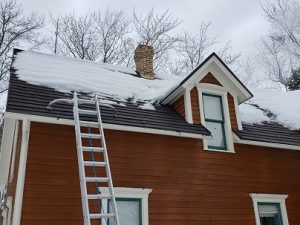 Do not go another winter season in Anoka, Minnesota without partnering with a team of professionals that have mastered the winter ice removal process. That's exactly what you get by choosing to work with our trusted ice dam removal specialists at Refuge Roofing & Siding. Our staff is setting up for winter ice removal, so make sure that you get on our client list in preparation for the cold winter months.
Ladders can be very dangerous, especially when snow and ice are involved. So, trying to handle winter ice removal on your own is not a good idea unless you truly have experience in this type of work. Our team at Refuge Roofing & Siding encourages you to stay off your ladder this winter and let our team of winter ice removal experts handle all of your ice dam removal needs. This not only helps keep you protected, but it also helps keep your gutters and roof protected as well.
Dangers of Ignoring Ice Dams
If you are not familiar, an ice dam occurs when ice forms at the edge of your roof, keeping the excess snow and liquid runoff from properly draining through your gutters. If you don't commit to winter ice removal, your home can quickly become at risk for leaks and water damage because of the heavy weight and added pressure that comes from ice dams. Rather than spending an affordable amount of money for our proven winter ice removal services at Refuge Roofing & Siding, you may end up having to call us for much more expensive repairs in the future.
Proven Winter Ice Removal Process
At Refuge Roofing & Siding, we handle your winter ice removal needs the right way. Using a low-pressure steamer, we work to remove ice dam build up safely. You don't have to worry about potential damage to your shingles like you do with other companies. Once your winter ice removal is complete, we can provide you with preventative measures to keep ice off of your roof and gutters.
So, if you live in Anoka, MN and are looking to get set up for winter ice removal, our ice dam removal specialists at Refuge Roofing & Siding are ready to get to work for you. Keep that ladder in storage and protect your roof and gutters this winter. To schedule your winter ice removal services, give us a call today at (651) PRO-ROOF.