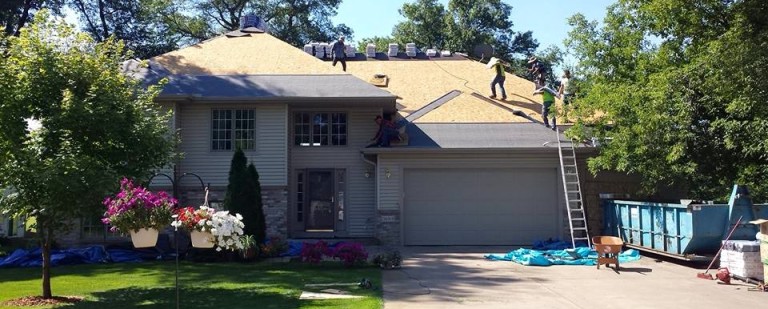 You don't just raise the value of your home when re-roofing, you also prevent mother nature from further infiltrating your home. The Licensed Roofing Contractors of Refuge Roofing Inc. offer complete roofing services around Mounds View, MN. Our Roofing Contractors have experience in re-roofing, initial roof installation and repairing storm damaged roofs. Our GAF Certified Contractors provide many choices for our clients, from architectural style shingles, 3-tab and even cedar shake options.
Roof Tear Off
Tearing off your old shingles would be the messiest part of the job. Our crews take pride in keeping your home in the condition it was prior to the work we've done.  There will be no mess or nails found later down the road. During the tear off we dispose of the old shingles and we inspect the sheeting on the roof to insure there's not any rotted wood or signs of water infiltration.
Felting the Roof
To protect cracks in the roofs sheeting black tar paper, or felt paper, is installed onto your roof. This will seal up any possible spots water can penetrate in from rainstorms or snow and ice. Also, after the old shingles are torn off, it's a good time to put down metal flashing for a chimney or valley.
Architectural Style Shingle Laying
When laying down the shingles, we begin at the small starter strip at the very bottom of the roof. Once the starter strip is laid out we can start laying down the shingles. A rule of thumb to go by would be ¼ of a full shingle and a full shingle next to it. Then above that initial row, put down a full shingle so the seams do not line up between both rows. The third row would be ¾ of a shingle, the fourth row ½ shingle, fifth row ¼ shingle. This creates almost an Aztec pyramid look that will help keep the seams from lining up through the rest of the shingle laying. That will then help rain flow down your roof on top of the shingles and not in-between, where it can gain more access to your roof sheeting.
Final Step in Roof Replacement
The final step in finish your amazing new architectural style roof in Mounds View, MN consists of capping the top. What capping the top of your roof does, essentially, keeps the shingles as one at the highest peak. Having a properly installed roofing system is your best chance at keeping mother nature and all of her ammunition at bay. Having a professional, licensed and insured contractor replacing your shingles near Mounds View MN will increase your property, your homes safety, and the assurance that you have a job well done. For a free roofing and shingle replacement estimate contact our experienced GAF Certified Contractors today (651) PRO-ROOF!