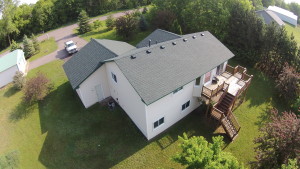 In the warm months, you may start to notice your roof a little more. After the seasons come and go they leave behind damage from the previous extreme before. When looking to replace your shingles in the Forest Lake MN area look no further than a company that has the best products and top of the line roofing contractors. Whether your shingles have been beaten from rain, sunlight, snow, ice, or fallen trees. Our professional team of roofing contractors are on your side helping spruce up the top of your home for a better view from the road and higher home worth. For any of your replacing shingle needs near Forest Lake MN, give us a call today!
Signs of Your Shingles Needing Replacement
Commonly, shingle replacement happens when a homeowner is moving or looking to re-financing their home, many times it can even be necessary when a tree falls on your roof. These are are all great examples of when it is time to replace roofing shingles. But shingle replacement is also a great prevent measure, to decrease the chances of further issues in your home down the road. That is why keeping an eye on warning signs of a failing roof will help save you money in the future.
Warning signs of a Failing Roofing System:
Ripped or torn, visually beaten shingles
Curled up shingles
Leaks in the ceiling
20-25-year span
Missing Shingles
Chimney/Valley Flashing
Usually, a good look on the roof by a professional will tell you the overall condition of your roof and/or the extent of the damage it has seen. Not all issues may come from the shingles either, many other common roofing issues happen around metal chimneys or valley flashings and even the roof boards could be a risk and need replacement. Whatever the issue may be when replacing shingles in Forest Lake MN give us a call here and we can handle it here at Refuge Roofing today!
Seasonal Damage
A lot of extreme weather changes or fluctuations here in Minnesota can cause issues with your roof's hat, so to speak. From summer to winter and everything in between mother nature will put your roof up for a fight. When trying to fight back call the best local roofing contractors serving Forest Lake MN for your shingle replacement needs.
Winter– From ice dams to heavy snow, the winter months will put its toll on your roof ever year. It is best to inspect after the storms are passed for rips, tears, and shingle buckling.
Spring/Summer– From extreme rain storms to blistering heat. Keeping your roof up to date will help keep the heat outside while you and your family are enjoying the cool are in your humble abode. Sunspots and roof leaks are easy indications of needing a new roof. Give us a call today for an estimate!
Fall– Not the coldest but the fall season can still do damage. Hail storms and fallen trees happen often during the fall,  have a trusted contractor stop by for an inspection today!
There can be many reasons to replace a roof. To best find out what you may need, have a licensed and insured roofing contractor near Forest Lake MN come out and give you a hassle free estimate on a brand new architectural style roof. Give us a call today to set up an appointment