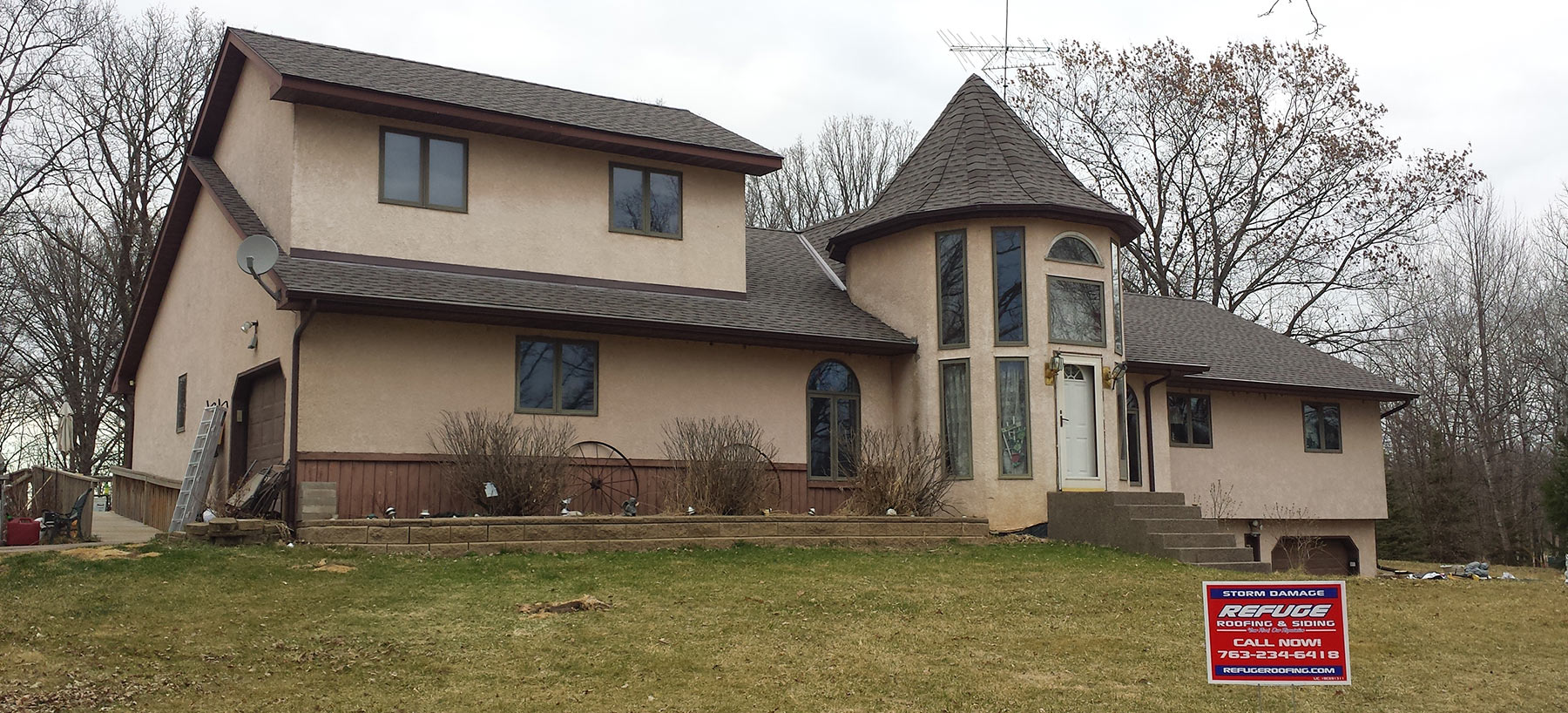 The saying goes 'April showers bring May Flowers' and although Minnesota doesn't always stick to the lyrics, exactly, there is nothing like the rebirth of vegetation in the spring. And this year, it is raining in April and when it rains on a cool, cloudy spring day – it usually pours. If you have roof damages, the water can pool up quickly and ruin your property. Refuge Roofing can offer you prompt and professional roof repairs for storm damaged homes and businesses. Our licensed and GAF Certified Roofing Contractors can quickly meet you at your Princeton, MN property and assess the situation.
Storm Damage Roof Repairs & The Insurance Company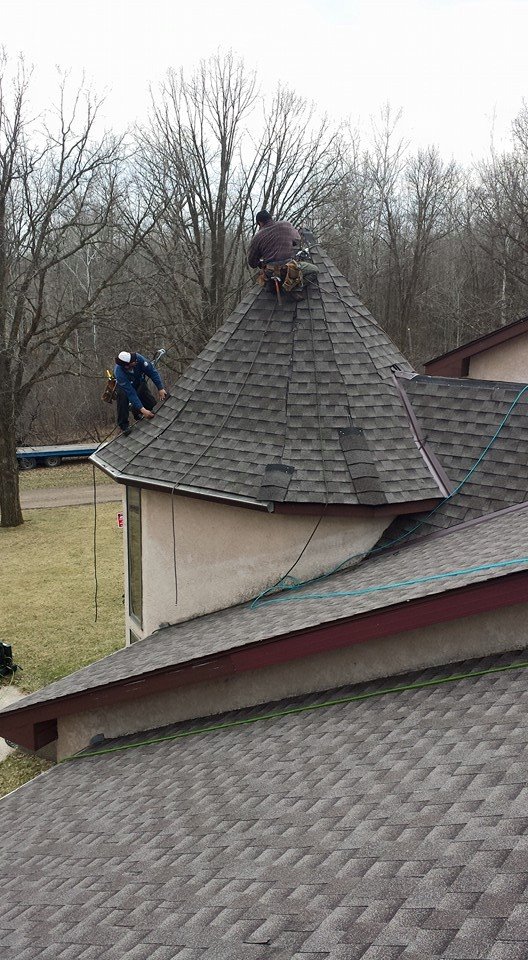 Minnesota's climate is sporadic, yet routinely. We may have an occasional shower but many spring days are covered in rain, from morning and into night. Water damage from a leaky roof is a problem in need of an immediate fix. It is important to contact both your insurance company and a licensed roofing contractor. All insurance policies differ but the majority of the time your insurance company will suggest that you, the property owner, first document the damages with photos and then quickly make the repairs, if further damages are undoubtable going to occur if nothing is done. Then, on a scheduled date, the insurance adjuster will come out and if he finds the job reasonable and that it has been completed by a Licensed Minnesota Contractor qualified to make the storm damage repairs, your reimbursement will likely be appropriate.
Our Contractor work with Your Insurance Company
Are you considering going on the roof with your insurance adjuster? If not you, someone should! We are more than happy to. We would actually prefer to work with you and your insurance adjuster. We can be an advocate for you. Insurance adjusters work for the insurance companies, it is their job and it is how they work for an honest living. Our licensed contractors work for you. We will be your eyes on your roof and our expertise in the roofing industry will help ensure all damages are noted for with the insurance adjuster; regardless if the storm damage repairs have already been completed or will proceed after the appointment. Another comforting piece of knowledge is monthly individual insurance rates won't raise due to storm damage in Minnesota.
Do You have a Leaky Roof?
Although it is nice to be able to rely on insurance to help you out when things go wrong, enough is enough – right? It is never fun to have to up and leave your home due to hazardous conditions. You've not planned for this issue and likely have a busy week as it is. Water damage is a hazardous problem to put off. If you think you have a leaky roof or have an older roof and get concerned while the rain, hail and wind comes at your home; your most cost effective option would be to contact a Licensed Minnesota Roofing Contractor right away.
Signs of a Leaky Roof:
Ceiling Water Spots – One of the easiest tell-tail signs of water damage coming from the roof is darkened spots on the ceiling, ceiling surface bubbling and in more extreme cases the ceiling breaks and water flows – which is never fun.
Exterior Roof Separating from Outside Building – Around the ends of most Minnesota Roofing Systems are protective measures. Flashing, gutters and fascia all play their part in a water impenetrable home. If you see damages in these areas from storms or with age, there is a good chance your roof can not protect from the elements, as it should.
Shingle Condition – Are your shingles curling, clogging your gutters or do you find them all over your yard? Your roof is showing you warning signs. Contacting a roofing contractor when you first notice these signs can make a big difference and prevent water damage before it happens.
GAF Certified Roofing Contractors in Minnesota
Don't wait until water pours out of your ceiling and you have an even bigger mess. Refuge Roofing has trusted GAF Certified Roofing Contractors that can assess and repair all the residential and commercial damages done by storms near Princeton, MN. Have the comfort of knowing you have a solid roof over your head and actually enjoy the melody of the rain once more. Contact Refuge Roofing for Immediate Roof Repairs & Roofing Inspections near Princeton, MN at (651) PRO-ROOF. We will get on your roof for free!