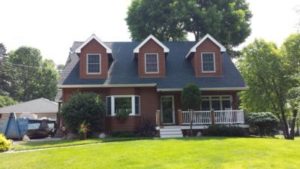 Roofs are expensive but a necessary and extremely important part of your home. When building a new home you are going to want to invest in a strong and durable roof to help keep the structure of your home sound, and avoid rain and other damage that comes along with a bad roof. It is possible you own an older home, or are getting to the end of your roof's life. Although roofs can be long lasting at some point you will most likely need to replace yours. As Minnesota experiences summer storms, hail is part of the equation and with hail usually comes roof damage and replacement. When you are scouting for a reliable roof contractor in Anoka, Coon Rapids or Blaine, Minnesota, check out Refuge Roofing & Siding, LLC.
Refuge Roofing & Siding, LLC is a fully licensed and insured local general contractor. We love working with all our clients and making sure that they are satisfied. To help create customer satisfaction we work with all major insurance companies to restore storm damaged homes and businesses in Anoka County and throughout the Twin Cities. Our goal is to restore your home better than before the storm ever hit. As home repairs can be extremely stressful, we have taken it upon ourselves to guide you through the process and with with the insurance company to correctly account for all the damages and make sure that the process is flawless and helps relieve you from additional stress when it comes to your home. We take pride in our thorough inspections and make sure nothing is missed.
Refuge Roofing & Siding, LLC is GAF Certified. Only 3% of roofing contractors in the nation are GAF certified and this makes us very proud. We want to be the best in the business and by having this certification you know we are reliable, licensed, trained, certified and insured. We are extremely professional and pride ourselves at our ability to provide you with the best work in town. No matter what your style, wanted brand or references we can, and will, install any brand or design of shingle you like.
We have a variety to choose from such as asphalt shingles; architectural style which is great at enduring all the elements and all the weather; steel roofing which is a great option and is visually beautiful; and cedar shake roofing which is hands down the most aesthetic, and although the roof can last over 50 years, it does require maintenance.
When it comes to roofing in Anoka, Blaine, Coon Rapids and the surrounding area, look no further than the most reliable company around: Refuge Roofing & Siding, LLC