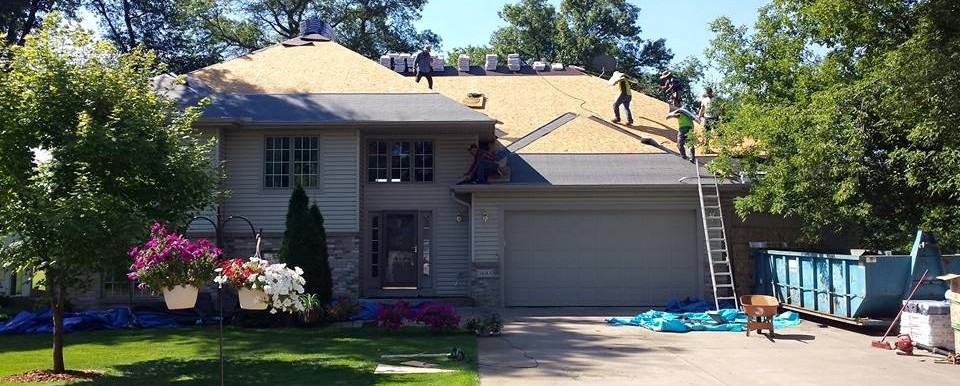 Your roof is arguably one of the very most important parts of your home. Its primary function is to protect the structure of your home and all that is inside.  Depending on the type of materials used for your roof, you can expect your roof to have an average lifespan of anywhere between 15-25 years.  When it is time to repair or replace your roof, you will want to think hard about what materials you decide to use and you will want to partner with a roofing company with experience, knowledge and a reputation for strong customer service.  Refuge Roofing and Siding of Oak Grove, MN is a leading roofing company in the area that can offer you many options when it comes to a new roof, or can repair a smaller area on your roof if that is what is needed.
Licensed, Insured Experienced Roofing Specialists
Refuge Roofing and Siding LLC is a fully licensed and insured local roofing contractor that specializes in residential and commercial roofing.  In addition to roofing work, Refuge also can complete work on siding, windows, gutters and storm or insurance restoration work.  Our team is highly trained, professional and customer service driven, so you can be sure that your experience will be positive.
Roof Repairs & Roof Replacement
We can install any type of shingle that you prefer for your roof repair or replacement.  If you are unsure what material to choose, our team can help advise you based on the property needs, area and the look you are going for.  Some of the latest, most popular and highly recommended materials including asphalt shingles, steel roofing, or cedar shake roofing.  Our experienced project manager can sit down with you and go over all possible options for your property and show you the various benefits to each, as well as cost and estimated project length.
Contact us to get your Roof Inspected!
Finally, if live in the Oak Grove, MN area and you want to learn more about our services in the Oak Grove area, call us at (651) PRO-ROOF to schedule a time for a free, no obligation estimate.  This generally only takes about a half hour and can give you very good information about what your home needs and a reasonable sense of the cost involved in the process.  We do not believe in high pressure sales tactics, so you can expect our consultation to be informative and low pressure.