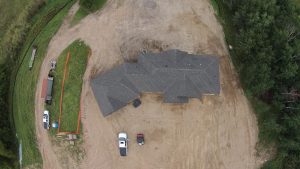 Your roof is your protection from everything from snow, wind, and rain to broken tree branches and even falling trees. Your roof is built to serve as a barrier between you and what is outside and because of where you live, your roof takes quite a beating each year. The potential damage that is done by snow, wind, rain, and falling tree branches cannot be denied. At Refuge Roofing & Siding, we have worked hard to establish ourselves as your roofing experts, whether you need immediate repairs done because of the elements or a recent storm or roof replacement services because of the age of your roof.
Residential Roof Repair and Replacement, MN
With most things in life, it is important, when paying for services, to feel confident that the service provider you hire is qualified to do the job you need. When it comes to the roof over your head, it is that much more important to believe in the professionalism of your roofing contractor, given that roof repair and replacement are so important to the long-term viability of your home and the safety of everything inside of it.
Refuge Roofing & Siding is one of very few roofing contractors in the area who are GAF-certified (only 3% in the entire country). GAF-certification means that we have received thorough training in the engineering and construction aspects of roofing. Our crew has gone through the rigorous processes associated with earning licensure in roofing; and our overall qualifications have resulted in our being insured, which adds another layer of protection for you, the consumer.
Experienced Roofing Contractors
If your roof has suffered damage, the contractors at Refuge Roofing can respond at a moment's notice. Our training and experience allow us to accurately assess the damage quickly and identify the steps necessary to repair it. Our clients can feel confident that we offer honest appraisals based on our professional knowledge. We will not inflate our estimate for the sake of profit. Your long-term confidence in us is more important than any short-term profit we might make from inflating costs. We will match style and color of shingles to return your home's look to what it was before the repair.
If you are replacing a roof due to its age, we can also provide you with multiple styles, colors, and options for roofing materials and shingles. Call us at 651-PRO-ROOF for more information or to request a free quote.