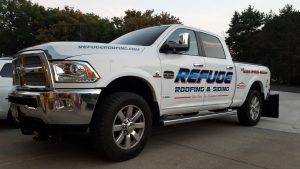 Whether it's your home or business in Anoka County, MN and you are looking for a quality siding contractor, Refuge Roofing & siding has you covered. We are Minnesota's premier residential and commercial exterior contractor that handles all types of siding, big or small.
At Refuge Roofing & Siding, we have seen a lot of companies come in and out of Minnesota. We've seen companies fall through on their word and even scam their customers with hidden fees and shoddy work. At Refuge Roofing & Siding, we are known for high quality work at an affordable cost to our clients. We offer a hassle free, no obligation estimate and consultation for both residential and commercial properties. We are proud to be a full licensed and insured company in Anoka, MN, license number BC691311.
Residential Siding
The siding aspect of any Anoka County, MN home is extremely important. Not only is it the first thing you see when you drive into your home, it's you first line of defense against the harsh Minnesota weather. At Refuge Roofing & Siding, we offer many different siding options that best fit your needs. From vinyl siding to steel siding, we provide many different options that best fit the look and feel of your home. When you choose our company, we will go over every option with you. Whether you choose classic, maintenance free vinyl siding, or the LP® SmartSide® products that are durable but require painting, we've got all of the knowledge and experience in helping you make the right decision.
Siding Options
For both residential and commercial properties, we offer a variety of siding options. All of these items can be installed to match the current look of your home or business property. Our siding options include:
● Vinyl Siding
● LP® SmartSide®
● Steel Siding
● Cedar Siding
● Vinyl/Polymer Shake
Commercial Siding
When you choose a company to work on your commercial properties siding, it's truly an investment. Making the right investment in your property can save you lots of money in the long run. At Refuge Roofing & Siding, we are known for providing high quality, durable, long lasting and beautiful results for our commercial properties. If you are considering replacing or even building a new commercial property, consider our expert professionals here at Refuge Roofing & Siding.
For more information about Refuge Roofing & Siding and our siding options for your residential or commercial property, give us a call today and book your free consultation at (651) PRO-ROOF.