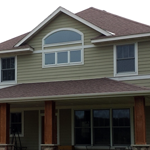 Are you in need of siding replacement contractors near Anoka MN? Refuge Roofing & Siding can upgrade your home while saving you money! Can you recall the memory of having a room repainted in your home? How that look and feeling of transformation of the room with that fresh new color and finish on your walls? It brightens, adds warmth, and encourages new decor! It can be life changing. Give a call today to speak with a professional siding contractor!
Knowledgeable Siding Replacement Contractors Near Anoka MN
Now we would love for you to imagine what it would be like to have an upgrade on your exterior siding? It will literally change and transform your home! This is truly the key have the new look and feel of warmth and transformation of the exterior of your home! What style have you always dreamed of? What look really appeals to you when you are driving around the neighborhoods? What makes you go WOW?! That looks amazing? We at Refuge Roofing and Siding are licensed, insured professionals that are committed to Anoka residents having the home they love. With the help of our local siding replacement contractors!
Your Choice is Best!
So what type of replacement siding appeals to you?! We offer a variety of options for our customers. We have Vinyl, LP Smart Side, Steel, Cedar, and Vinyl polymer shake. Each has its own personal look and style. We would be honored to support you in your new exterior siding replacement! To really have the upgrade, updated style you love to create the warmth and character that resonates with you!
We pride ourselves on our credentials, our A+ rating, excellent reviews and integrity in our work. We encourage you to dream about what you would love your home to look like and make that replacement siding a reality!
Please check out our free quote option so we can get started right away. Give us a call and speak with an experienced replacement siding contractor!