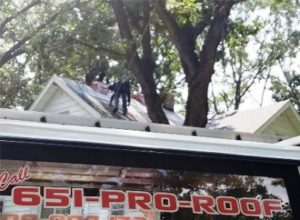 Right now the weather is amazing, a break from the cold, snowy Stacy, MN winters. It's the time of year when everyone is able to get outside and enjoy the fresh air. But along with the comfortable temperatures there comes the threat of occasional storms, storms that can produce heavy rain, lightning, hail, strong gusty winds, and even a tornado once in a while. Refuge Roofing & Siding is your go-to company when those strong storms hit and cause unwanted damage to your home.  A+ member of the BBB followed by reputation of  not pressuring our customers. Our job is just to pointout the damage that was done by the storm that hit your home with hail and high winds on 8-26-2018 on and around Stacy, Minnesota. If you are seeing this…you have hail damage!
Free Stacy Hail Storm Damage Inspection 8/26/2018
If you are concerned about storm damage to your home's exterior, call Refuge Roofing today for a free hail damage inspection and no obligation estimate. We will find a time most convenient for you to visit your home and take a look at the damage. Call us for any exterior damage concerns you have, including:
● Roof damage
● Siding damage
● Broken windows
● Gutter damage
Insurance Approved Storm Damage Repairs for Stacy, MN
Do you live Stacy or surrounding areas? Have you noticed potential storm damage to your roof or other parts of the exterior of your home? If so, Refuge Roofing is ready to help work with you and your insurance company to repair the damage. Many times when damage is done to a home, it is covered under homeowner's insurance because it is considered damage caused by a natural disaster. As a company, we will work with your insurance company as a facilitator throughout the process to make sure your claim is covered.
Hail Storm Damage in Stacy, Minnesota
When a severe storm strikes like the own in Stacy, Minnesota on 8-26-2018, you have likely heard the weatherman refer to the size of the hail: quarter size, golf ball size, or even baseball size. Hail can cause damage in many ways to cars and homes. A Hail expert from our team can come to your home and take a look at any potential hail damage to your roof or even windows.
Wind Damage
As with hail, wind can also be a damaging force during a storm. If you have noticed loose or missing shingles or even broken windows following a storm, give Refuge Roofing & Siding a call for a damage assessment. Again, we will help you with any insurance claims to avoid costs to you directly.
With the summer months upon us in Minnesota, we will most definitely have the inevitable storm pop up from time to time. When those storms become strong to severe, home damage can occur. If your home suffers damage at the hands of a summertime storm, give Refuge Roofing & Siding, an A+ Better Business Bureau rated company, a call at (651) PRO-ROOF to handle any repairs you may need.