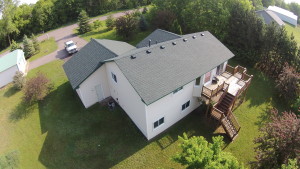 Having to deal with the aftermath of a furious storm can be quite challenging. That is why, here at Refuge Roofing & Siding, we have developed the skills to work with your insurance company after we assess the storm damage repairs needed and get an estimate together that is up to code and safe. Dealing with storm damage repair in Elk River is a specialty of ours, from the beginning our lifetime warranty is endless, we will have your back in case of any possible issues in the future. Mother nature can put out her dukes when she wants to and her elements can be quite severe to our homes. Our storm damage repair contractors can help restore the condition of your home. We want everyone in Minnesota to have the proper shelter for their home that has been worked so hard for.
Home Hail Damage
The sound it makes is beautiful, but the damage hail does can cause more issues down the road than you should have to deal with. When it comes to hail damage, as a home owner you should leave no stone unturned during your after storm check up. If you don't feel comfortable our experienced storm damage inspectors near Elk River can stop by an give you a free estimate on repairs. Possible issues that can occur from hail are, damaged shingles, cracked or broken windows, and broken or dented siding and are damaging to these highly necessary items that protect your home and what is in it. After a large hail storm it is always best to get a home inspection, to insure there are no snowball effects coming along the way. Often times window, siding, or shingle replacement is necessary.
Rain Damage
Rain, rain go away from inside the house and out you stay! Having rain penetrate through your protective materials such as siding, roofing, or windows will cause a lot of damage. If water gets into your electrical system, it can cause many issues. Water can greatly effect the insulation aspect causing mold and failure. Water can cause your home to rot from the inside out by making its way down the studs and floors of your home to the basement foundation. It could cause drastic problems in the future. That is why after a storm always check out your home. Along with hail and rain, wind can play a huge role in storm damage repair situations.
Home Wind Damage
The forceful wind can be very brutal to a home during a storm. Cracking branches and trees in half, sometimes landing on unfortunate homes in their path. No matter how large or small the damages may be, have one of our professional storm damage adjuster inspect your home while insuring you and your families safety. Whether it is the wind tearing up shingles, ripping off siding, pulling gutters to the ground, or even blowing windows completely out of the sill, we can repair it. The wind can whip your lawn ornaments or furniture right into the side of your home, don't let your pocket get caught in the wind too, have one company work with you right from the start. Our highly trained and skilled crews can make a storm damage accident look good as new. Our materials come with warranty information, for any questions give us a call (651) PRO-ROOF!