GAF Certified Maple Grove & Osseo, MN Roofing Contractor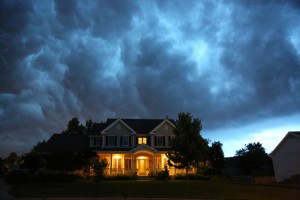 Summer months in Maple Grove, Minnesota is the time of year for enjoying outdoor activities, right? While that is true, everyone knows we also can't rule out the occasional severe thunderstorm. Some storms might even produce strong winds and hail that unfortunately cause damage to our homes. When you find yourself needing roof, siding, gutters and fascia repairs due to the hail storm on Friday August 3rd, 2018 that caught all of us in Maple Grove and Osseo off guard.  Refuge Roofing & Siding is the dependable, detail oriented GAF certified roofing contractor you want to  get your home back into tip-top shape. Team members dedicated to dealing with storm damage insurance claims in Maple Grove and Osseo are ready to help.
Maple Grove Storm Insurance Claim Repair Specialists
Refuge Roofing & Siding knows that one of the biggest worries with making home repairs caused by a storm is how it will hit your wallet. Fixing storm damage is not something most of us have in our budget, and it is most often completely unexpected. The good news is that insurance companies will cover repair costs incurred due to weather related issues; they consider them to be "natural disasters". In addition, your rates will not increase because of storm related damage. Refuge Roofing is the company to call to handle any storm insurance claims. We will work with you from contacting your insurance company until your repairs are complete. Let us handle the insurance company, that way you won't have to worry about it.
Osseo & Maple Grove Hail Damage Repair Contractor
While no one wants to have to deal with home repairs due to storm damage, it is important to make those repairs in a timely fashion. You don't want to leave the damage because worse damage can occur. For example, a leaky roof that is not fixed can lead to significant interior home damage. Refuge Roofing & Siding can complete any storm related repairs including:
● Roof repair
● Siding repair
● Gutter repair
● Window replacement
As a company, Refuge Roofing & Siding takes pride in customer satisfaction. We do not consider a job complete until you are satisfied with repairs made to your roof, siding, gutters and fascia. We want to make things easy on you because we know that dealing with storm damage can be time consuming. For this reason, we have team members dedicated to just dealing with the hail storm damage insurance claims in Maple Grove and Osseo, MN from the storm on 8/3/2018, so you don't have to. Something you might not consider is the importance of clean up following a job, but it is something that we take seriously. We do not want you to have to worry about leftover debris when we are gone, so we always complete extensive cleanup. Again, we will make sure you are happy with our work. Our moto is "Your Roof Our Reputation"
If you suspect your home has been damaged during the hail storm on 8-3-2018 in Maple Grove and Osseo, give Refuge Roofing & Siding a call at (651) PRO-ROOF for a free assessment and estimate. If you are reading this we know your have hail damage!