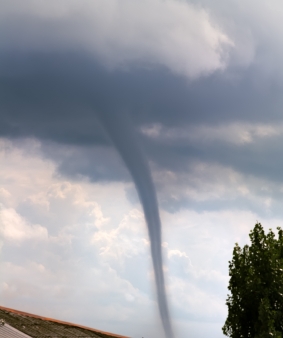 When your home suffers damage from a surprise storm, the last thing you probably have energy for is working with your insurance company on your claim. While many insurance companies do a good job respecting the difficulty that homeowners are going through when their homes are damaged by storms and strong winds, insurance claims are complicated and can be overwhelming. Refuge Roofing & Siding specializes in storm & wind damage restoration in Elk River, MN and is good at repairing storm damage and also has extensive experience and knowledge of working directly with insurance companies on behalf of our customers.
Home Repairs after a Storm in Elk River, MN
People whose homes have been damaged by storms and wind typically want to be reassured that their homes can be repaired, that the company they choose to do the repairs will perform them well, that the company will not over-charge them for the repairs, and that their insurance company will honor their contract with them. Refuge Roofing & Siding will come through for you in each of these areas.
Our team works directly with many insurance companies and have found that most of them want to help homeowners, especially after a traumatic storm has damaged their homes. Our history has allowed us to see lots of different insurance companies and individual insurance adjusters, and we have the kind of experience to know how to help them help you. Our own business model is built on the concept of service to our community. We use our expertise in home repair as our primary means of serving the people of our communities. We also serve the people in our communities by alleviating much of the stress that comes in the aftermath of a damaging storm by working closely with insurance companies.
Working with Your Insurance Company after Storm Damage
Good repair services like ours and good insurance companies are necessary, and each serves multiple and important functions. We see ourselves as your first-line advocate after the difficult experience of discovering that a storm has damaged your home. Even if you have the world's best insurance company, no insurance company has the personnel to do the repairs on your home. Because an assessment of the damage must be done in order to do proper and perfect repairs, you should be able to count on your repair company to provide you with an accurate assessment of the damage and confidence in its ability to perform the repairs perfectly.
If you live in the Elk River, MN area and your home has been damaged during a recent storm, give Refuge Roofing & Siding a call at (651) PRO-ROOF to speak with a member of our team.