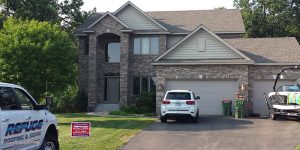 new windows are much more energy efficient than your old windows, saving you money each month on your power bill. Old windows let air in and out, so you lose the air that your HVAC is working hard to produce. In the winter, heat escapes from your home's old windows and cold air can get inside. In the summer, the cool air escapes while warm air enters. Refuge Roofing & Siding can install high quality replacement windows that are strong, durable and energy efficient. Your home can take a beating from the Minnesota weather. The windows that we recommend are specifically designed to withstand local weather. You can expect to save between 25-40% on your heating and cooling bills with replacement windows.
Benefits of Replacing Your Old Windows
In addition to offering increased energy efficiency, there are other important benefits of replacing your old windows. These additional benefits include:
1. Reduce maintenance: Old windows can require a lot of maintenance. Cleaning can be extremely difficult, and the wood can decompose and rot, which is expensive to repair. New windows installed by Refuge Roofing & Siding. are easy to clean, open and close and are virtually maintenance free.
2. Improve the curb appeal of your home. Old windows can make your home look old, worn and tattered. New windows make a big difference to the overall look of your home and can even have an impact on resale value.
3. Add natural light to your home. Old windows tend to be smaller and the glass is dingy, which prevents the maximum amount of light from entering your home. New windows can add additional natural light in the rooms of your home and also make rooms look bigger.
4. Increased security: Old windows can more easily be broken, leaving your home vulnerable to theft. New windows offer strong glass that is resistant to breaks. New windows also cut down on noise you hear from outside your home.
Experienced Minnesota Window Replacement Company
Refuge Roofing & Siding. specializes in installing replacement windows for our customers in Minnesota. Our team has been completing window replacement and other exterior repair services for years and have established a reputation for excellent customer service and affordable pricing. For more information or for a free estimate, call us at 651 -PRO-ROOF.