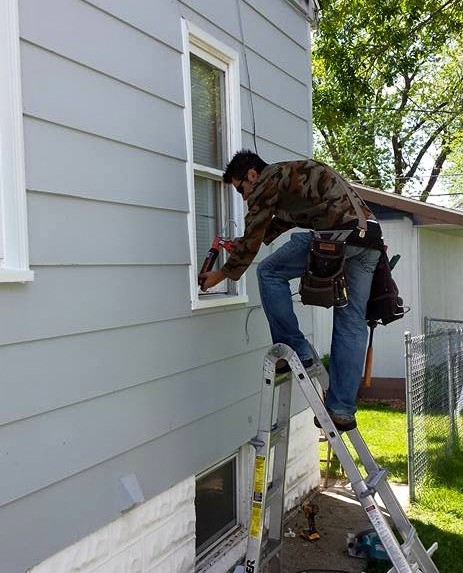 Well, it is back to the 90's and you would be wishing for ice, ice, baby when the blistering heat catches you unexpectedly as you casually walk past your single pane half fallen out window in your living room and bedroom. If you can feel the heat from the warm outside heating your room while the air conditioning is blasting, that is an indication of your home needing a new window replacement services near Andover. With professional contractors on site and premium materials being put into your deserving abode, Refuge Roofing & Siding is the best choice around. We are Minnesotan's through and through, we know what it is like dealing with both the blistering heat and surviving a frostbitten, frozen winter year after year. Being locally owned and operated we are the experienced contractors you can trust to get the job done hassle free. Have a project manager visit your home today for your upgraded window replacement in Andover!
Out with the Old and in with the New Window Replacement
Even structures need an updated facelift to keep an appealing appearance while maintaining functionality and productivity. The eyes to your home play a very versatile and critical part of a fully functional home. Upgrading your old windows to brand new energy efficient Andersen windows will not only benefit the curb appeal from coming home after a long day at work but also save you money on your monthly utility bill! With our energy efficient windows come with complete removal and disposal of your old units with no additional cost. Let us help you live comfortably in your own home, give us a call today to have a project manager stop by and give you an estimate for our upgraded new window services near Andover MN!
Signs of Needing A Window Replacement Andover
There are many signs and tells when it comes to indicating if your home's windows need replacement in Andover MN. First off one good indication that the gas from the glass itself is gone is by placing your hand on the glass or near it, then if you can feel little to a lot of heat that means you do not have any more gas insulation in your glass window pane. If the glass itself is cracked or missing. When you put your hands near the trim or window itself and there is a light breeze is another indication of needing a new upgraded window replacement. If you have experienced any of these issues or others give us a call and our professional project manager can inspect your windows and if recommended, give you an estimate for energy efficient window replacement services near Andover!
Professional Window Products from Professional Window Installers
From the beginning of any task that is asked of us we are professional. Having a hassle-free, no obligation estimate and consultation we believe you as a homeowner deserve time to make big decisions and luckily our project managers are highly qualified to educate you about all and any information as we stand by the products we recommend for your home as if it was our own. We know our products inside and out to master the trade in everything we do from siding to windows, roofs and gutters all of our products are highly crafted out of top of the line materials to uphold through mother nature as she throws more near disasters our way. With Refuge Roofing & Siding you also get, licensed and insured contractors for everyone's protection and a knowledgeable team that will make your dreams a reality. Give us a call today for your any questions on our professional window replacement services around Andover (651) PRO-ROOF!