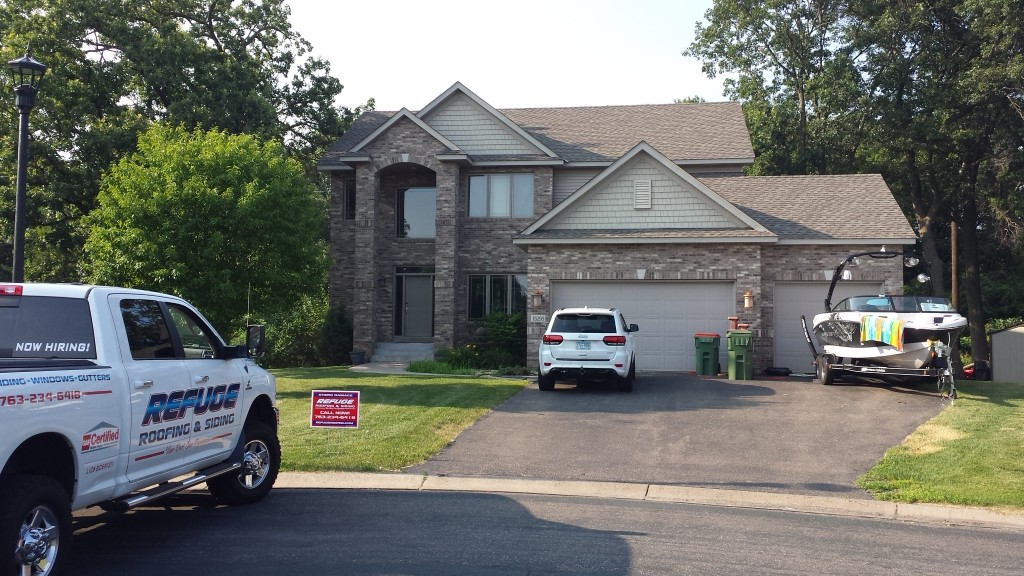 Refuge Roofing & Siding, LLC is a fully licensed and insured local general contractor based in anoka, MN that primarily specializes in residential and commercial roofing, siding, windows, gutters and storm/insurance restoration work, i.e. wind, hail, fire and water. We work with all major insurance companies to restore storm damaged homes and business' in Minnesota to their original state and/or BETTER!!
We take the stress and hassle out of dealing with the insurance company to correctly account for all damaged items.! We will meet your insurance adjuster on-site whether it be at your home or place of business and assist in accounting for any and all damaged property pertaining to your roofing, siding, windows and gutter systems. This insures that no stone is left unturned and NOTHING gets missed!
The cost to replace storm damaged property in most cases in based upon a Xactimate (Scope of Loss) which your insurance company provides. This takes any confusion about pricing out of the equation. Any work done by Refuge Roofing & Siding, LLC is done from proceeds paid by the insurance company with no additional cost to the home/business owner except what is due as required by the insured's insurance policy (deductible).
BUT PLEASE DO NOT BE MISTAKEN….. We do NOT only deal with storm damaged homes that are paid for by insurance. In the event that your roofing, siding, windows or gutters have just reached the end of the line and it's time to replace, we would greatly appreciate the opportunity to help you replace any of the above and would be glad to sit down and show you what your home or business COULD look like! We are a GAF Certified Installer and work with the best suppliers including ABC Supply and Alside Supply to stay up to date in our industry!
We offer a HASSLE FREE – NO OBLIGATION ESTIMATE and CONSULTATION!
In most cases our initial estimate and consultation will not take us longer than 30 minutes. We will stay longer should you have any questions or decide you want to take a closer look at options for your home or business.
One of our factory trained Project Managers will come to your home and take full measurements and before pictures of the job. Upon finishing a complete exterior inspection, he or she will then make sure you are aware of all critical problem areas that may need to be addressed right away. We will then sit down and go over the "scope of work" and what exactly you would like us to accomplish for you. We are very flexible and would be happy to work around your schedule when the time comes to complete the work. At that point, we would decide on a date that the project could start and propose to you an estimate for the work to be completed.
THAT IS IT! At that point, YOU decide what you would like to do next! If you want to think about it, go ahead! If you would like to proceed….well GREAT, we will get the ball rolling!
No high pressure sales tactics, you know what is best for you and we respect that!
Sincerely,
Josh Walstrom
CEO
What Our Clients Are Saying About Us
Refuge Roofing & Siding, LLC
MN License #BC691311
18315 Dahlia St NW, Anoka, MN 55011
8050 147th Ave NW, Ramsey, MN 55303
Copyright ©2022. All Rights Reserved.