Ice Dam Prevention and Removal MN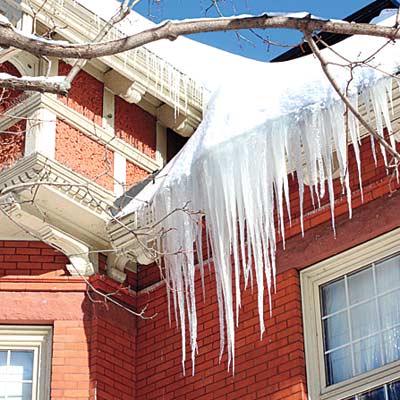 Ice dam problems can be a very dangerous issue to home owners. From the risk of falling on you or someone else ending up in an insurance claim to having massive water damage in your home. Have you ever wondered how to get rid of ice dams? Our licensed contractors offer ice dam removal in the Minnesota cities of Oak Grove, Princeton, Cambridge, North Branch, East Bethel, Forest Lake and the surrounding Minneapolis areas. We can give you pointers and tips on how to get the ice dams gone, and stay gone! Minnesota ice dam removal just got easier with Refuge Roofing & Siding, Call us today!
Ice Dam Removal Experts in Anoka, Coon Rapids, Blaine, Fridley and Ramsey MN
What is an Ice Dam?
An ice dam is a ridge of ice that forms at the edge of your roof and prevents the melting snow from draining off your roof. As the water backs up and pools behind the ice dam it can easily leak into your home and cause water damage that can lead to hundreds, if not easily thousands of dollars in damage to your home! Freezing and thawing conditions can form dangerous ice dams that can cause water leakage and structural damage to your Minnesota roof. Snow accumulation can also create heavy weight loads on a roof that are often difficult to remove and potentially dangerous to your home or those approaching your home. Stop ice dams before they start by contacting an insured ice dam removal specialist today to help you save money tomorrow!
How do Ice Dams Form?
When icicles form on the roof there is a good chance that your attic is not properly insulated and ventilated. When that happens the heat doesn't stay in your home and escape's to the roof.  The remaining snow will then melt and begin to slowly travel to the edge of the roof. Colder parts of the roof, such as where the fascia is located remains cold and begins to re-freeze the melted snow. Between the ice dam and the snowy roof there will be a pond of water lingering and soaking possibly through, into your attic. Between keeping up on your attic insulation and upgrading your gutter system, keep an eye on any leaks that you may have. Call the Minnesota experts on ice dam removal today for any questions!
How to Remove Ice Dams?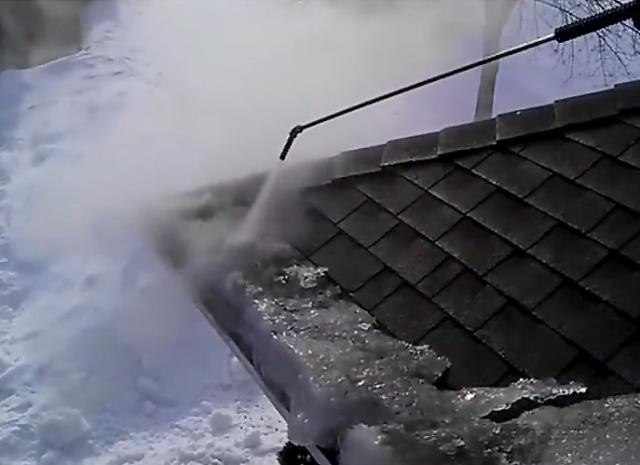 Our skilled contractors in ice dam removal use a low pressure steamer to remove ice dam build up rather than other companies that use pressure sprayers which can very easily damage your shingles. Our steamers rely on high temperatures and low pressure to safely remove ice and snow from your roof. If you don't know what you're doing or don't have the specialized equipment removing ice dams can sometimes damage parts of your home and the process can be hazardous, we urge you to have a professional take a look before the possibility of adding extra damage.
Ice Dam Prevention
Keeping a dry and ice free roof may be difficult. Our ice dam removal specialists have found ways to keep the ice off your roof. First closing off all of the attic bypasses will help the heat from traveling through the attic to the roof causing snow to melt. Also keeping up on the proper amount of insulation lessens the chances of ice dam build ups. Another way is proper ventilation. Having the significant amount of soffit and roof vents is crucial for your roof and attic insulation insuring no ice dams to be started at the edge of your roof.
See an Ice Dam? Contact us for Ice Dam Removal
When dealing with the annoyance of ice dams on your roof, don't risk your safety. Contact a professional today so we can help get rid of your ice dam problems and insure they do not return. We are trained to properly remove the problem, fix any issues it may have done to your home, and give you educated recommendations to keep the ice buildup from happening again. Call us today (651) PRO-ROOF!
What Our Clients Are Saying About Us
Refuge Roofing & Siding, LLC
MN License #BC691311
18315 Dahlia St NW, Oak Grove, MN 55011
Copyright ©2023. All Rights Reserved.