Attic Insulation Services
Insulation Contractor MN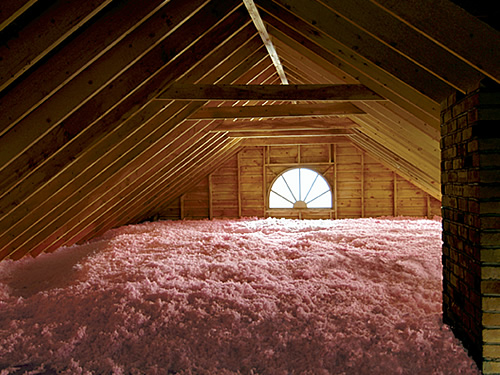 Often times the re-insulation of your attic is forgotten about or, at other times, put on the back burner. Here at Refuge Roofing & Siding our professional insulation contractors urge you to keep up and maintain proper attic insulation. Our certified insulation contractors service the north metro. Our insured attic insulation contractors are here to perform any of your attic insulation needs.
Minnesota Attic Insulation Experts
No matter what kind of insulation you currently have in your attic, one quick way to determine if you need more is to look across the span of your attic. If your insulation is just level with or below your floor joists (i.e., you can easily see your joists), you should add more. If you cannot see any of the floor joists because the insulation is well above them, you probably have enough and adding more may not be cost-effective. It is important that the insulation be evenly distributed with no low spots. Attic insulation levels are specified by R-Value and R-Value is a measurement of the insulation's ability to resist heat flow. The higher the R-Value, the better the thermal performance of the insulation. Adding insulation is a quick process, that is also very cost efficient when considering the alternatives (heat loss, higher bills, vulnerability of ice dams, etc.). Contact us today for a free estimate! If your home is older than 10 years, you may want to inspect your attic or call us – we are happy to help and give you our educated recommendations!
Blown-in Insulation Contractor MN
When blowing in cellulose insulation, the job itself can be a pain. Depending on the area it can be tough squeezing into some of the nooks and crannies that are in need of re-insulation. When we get a job, our professional contractors don't only just spray in additional dressing of insulation but we insure your attic is fully sealed and up to code. We check for gaps and seal attic bypasses that could be causing more drafts than needed. Depending on your attic we also add vents or recommend the best airflow for the area and insulation needed. Insulating the access doors is a great and sometimes missed step that we certainly take to protect from air infiltration. Your attic is our new home when it comes to keeping you up to code, and warm down below. Our professionals are here to help. Call us today for an estimate!
Licensed and Insured
Not only are we experienced and educated but our contractors, here at Refuge Roofing & Siding, are licensed and insured as well. Protecting you and your home from unforeseen accidents during the job at hand is a crucial part of our job. We want to help not make more of a hassle for you. By hiring a highly trained contractor, who is licensed and insured you will get the job done right the first time. You may be able to save money by going to Joe Shmo down the road but what happens if his foot goes through your ceiling during the job? Who's going to pay for that?! Trust our skilled team we are professionals and are backed by insurance and certifications. Call us today for a free estimate!
Contact Us for all your Attic Insulation Service needs in Minnesota
Refuge Roofing & Siding is the top of the line when it comes to home repair or upgrading. From shingles to siding, gutters to insulation, call the professionals when you need a job done so you can relax and enjoy the outcome worry and stress free! Call us today for an estimate on cost effective insulation services at (651) PRO-ROOF!
What Our Clients Are Saying About Us
Refuge Roofing & Siding, LLC
MN License #BC691311
18315 Dahlia St NW, Oak Grove, MN 55011
Copyright ©2023. All Rights Reserved.