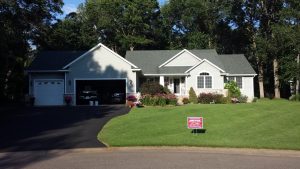 Refuge Roofing & Siding is an Anoka Home Exterior Contractor that provides comprehensive home exterior services in your local area. It may be true that many home exterior contractors offer a wide range of services, but it is not likely that you will find one like Refuge Roofing & Siding. We offer not only comprehensive services, but a guarantee of the highest quality work and affordable prices.
Below are the major Home Exterior services we provide:
Roofing
Doing roofs is what helped us earn our excellent reputation in Anoka and surrounding communities. We offer a number of different roofing styles, including architectural style roofing, steel roofing, and cedar shake roofing. In addition, Refuge Roofing & Siding is one of the few roofing companies to be GAF-certified. Considering that only three percent of all roofing contractors are certified, this puts Refuge Roofing in rare company and provides an indication of our commitment to the highest quality roofing. Considering the essential importance of your home's roof to your family's safety, this is an important factor.
Siding
If you are looking to upgrade your current siding to something more durable, Refuge Roofing & Siding offers a number of different choices. We offer vinyl siding, which is virtually maintenance-free; LP Smartside siding, which combines the durability of engineered wood and protects against decay caused by fungi and termites. LP Smartside does, however, require that the siding be painted. We also offer steel siding, which stands up to Minnesota's severe weather and comes in many styles. Cedar siding is another popular choice for our customers because of the way it ages to an appealing gray color and its resistance to pests. Finally, vinyl/polymer shake has the look of real cedar but requires no maintenance. If you need our help with siding replacement because of storm damage, we can also perform color and style matching.
Gutters
Your new roof and/or siding are vulnerable if your gutters are not doing the job of moving rain and snow melt away from your house. And like all of the products we install, our gutters are also of the highest quality, both the materials and the installation.
Storm Damage
Anoka County, Minnesota is the recipient of as much severe weather as any other part of the country. Because of that, our homes occasionally sustain damage to their exteriors. When the wind blows shingles off the roof or loosens siding panels, or when a large tree branch knocks a section of gutter off your house or breaks a window, you want to know that the contractor you work with will respond quickly and will treat you respectfully. That is the essence of Refuge Roofing & Siding.
For more information or a free estimate, call Refuge Roofing & Siding at 651-PRO-ROOF.