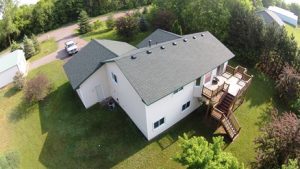 Refuge Roofing & Siding is an Anoka Licensed Contractor, and provides homeowners with expert service in roofing, siding, windows, and gutters. More than that, our experience and the positive reputation we have built offers our customers peace of mind. To succeed in this competitive industry requires us to set ourselves apart from our competitors. That is why we combine our professional expertise with affordable pricing and a commitment to only the best customer service. We have served the communities in Anoka County, MN for more than a decade.
Anoka County Residential Exterior Contractor
Below is a summary of the exterior services that Refuge Roofing & Siding offers:
Minnesota Roofing
If your roof has been damaged by a storm, the impact of a fallen tree, or some other unforeseen occurrence, Refuge Roofing & Siding can restore your roof to an optimal condition. If the structural integrity of your roof is compromised because of its age, we can replace it. Refuge Roofing & Siding completes both repair and replacement of roofs. We are a GAF-certified roofing contractor, and only approximately 3% of roofing contractors can make such a claim. It is a statement of our expertise and commitment to excellence in roofing. We can also install any shingles you choose.
Minnesota Siding
Next to your roof, the siding of your home experiences the greatest stress from Mother Nature. Your roof is never not in the line of fire from the elements; your home's siding occasionally benefits from the movement of the sun in the sky, but because it is part of your home's exterior, like your roof it is under constant stress. It can also be damaged by storm and affected by time. Refuge Roofing & Siding can replace damaged siding, whether the damage is limited due to a storm or in need of total replacement because of age. If you are interested in switching from your current siding to a new material, we can help you there too. We offer a variety of siding choices to meet your budget and give your home maximum protection.
Minnesota Windows
We specialize in installing Mastic windows and Andersen windows. The windows we install add visual appeal to your home, but they also increase energy efficiency, reduce noise, and stand the test of time.
Minnesota Gutters
Gutters are an extremely important part of a well-constructed home. They move water away from the foundation of your home, protecting your home from water damage. Just like the choices associated with roofing, siding, and windows, we offer a variety of choices of materials and styles of gutters.
Contact Refuge Roofing & Siding at 651-PRO-ROOF for more information or for a free consultation.