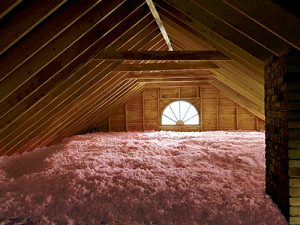 Living in Anoka, MN can be very difficult on our monthly energy bills throughout the year. Without proper insulation, attempting to keep the inside of your home warm during the winter and cool during the summer can cause your energy bills to skyrocket at certain times of the year. To help reduce those energy bills, you need an attic insulation specialist on your side. That's exactly what you get when choosing to work with our dedicated team at Refuge Roofing & Siding.
Blown-In Insulation is the Way to Go
What's the point of adding attic insulation to your Anoka, MN home if the tough and difficult to reach areas of the attic aren't addressed? At Refuge Roofing & Siding, our attic insulation specialists make sure that every inch of your attic is properly insulated. By utilizing blown-in insulation, we're able to spray in additional insulation in those hard to reach areas so that your attic is fully sealed. In turn, those high monthly energy bills will see a significant reduction after your attic insulation services are complete. We'll even recommend added vents where they are needed to ensure that you are maximizing your home's air flow.
Licensed and Insurance Backed Insulation Specialists
Don't fall into the trap of utilizing an attic insulation contractor that isn't licensed and insured. That may mean that your attic insulation isn't up to code. By choosing to work with our attic insulation specialists, you'll gain access to our team of licensed and insurance backed experts. We make sure that every attic insulation project that we take on is up to code and that your attic is fully insulated.
Complimentary Attic Insulation Estimate
Not sure whether or not you're ready to make the investment of better attic insulation? Well, that's not a problem because our crew at Refuge Roofing & Siding offer a complimentary attic insulation estimate. With this estimate, you'll be able to get a better financial picture of what to expect with this type of project. If you're not ready to commit after reviewing your free estimate, there is no obligation for you to move forward with the work. We are, however, very confident that you'll be pleased with our fair pricing.
Don't underestimate the importance of proper attic insulation for your home in Anoka, MN. If your current monthly energy bills are high and you're ready to invest in blown-in attic insulation, our attic insulation specialists at Refuge Roofing & Siding are here to help. To request your complimentary estimate, give us a call today at (651) PRO-ROOF.