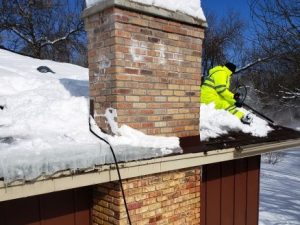 Living in Champlin, MN, dealing with ice and snow accumulation on your home is something that you have to deal with every year. If you decide to ignore the ice build up, you may be left dealing with bigger issues that come with a larger price tag than ice removal does. Taking on this project on your own, however, isn't something that is recommended as it can be a dangerous task. So, if you are looking for a company to remove ice off your home in Champlin, MN, look no further than Refuge Roofing & Siding.
If you don't have a lot of experience dealing with ice dams, which form at the edge of your roof, then you may not even know what to look for when it comes to ice removal. The good news is that our team at Refuge Roofing & Siding offer a no hassle ice removal consultation right at your home. Your only responsibility is to reach out to our expert ice removal team, and we'll handle the rest. One of our ice removal specialists will arrive at your home to provide you with a thorough consultation. From there, we'll provide you with a no hassle estimate that will break down the expected costs of your ice dam removal. What you'll find is that this small investment is much more affordable than having to deal with a damaged roof or gutter system that happened because the ice buildup on your home was ignored.
Low Pressure Steamer Ice Dam Removal Champlin, MN
Unlike some other ice removal companies around Champlin, MN, we make it a point to keep the rest of your home protected from damage as we remove the ice from your home. We are able to accomplish this thanks to our low-pressure steamer removal process. Using high temperatures and low pressure, we're able to get rid of the ice dams around your home without risking damage to your roof or shingles. Before you know it, these ice dams will be removed, and your roof and gutter system will no longer be at risk of damage.
Living in Champlin, MN can surely take a toll on your home's roof. Rather than ignoring the ice dams that have developed on your home, why not pick up the phone and seek a no hassle consultation from Refuge Roofing & Siding? We are a trusted local company to remove ice off of your home. Give us a call today at (651) PRO-ROOF to learn more.