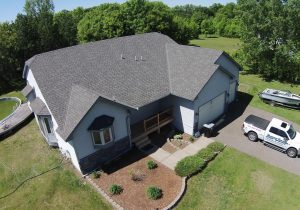 Refuge Roofing & Siding is the Elk River Contractor specializing in exterior home repair.  We are a full-service contractor for all of your roofing, siding, and window needs.  This is why you should choose us for your next home repair project:
We are trusted and trustworthy. Not only are we extremely good at our profession, we are also GAF-certified, which means that we are licensed, highly trained, and insured.  To put that in perspective, only about three percent of all roofing contractors in the United States have earned GAF-certification.  We have worked hard to earn that certification because it means that we can communicate our confidence to our customers.
We take pride in doing excellent work. Our contractors are professional, prompt, reliable and good at what they do.
We take every measure to make sure you are satisfied with the end-product. We are happy to make recommendations about which products we recommend, but ultimately we want you to select the roofing, siding, and window products that work best for your home.
Roofing Evaluation and Repair in Elk River
Your home's roof is your first line of defense against all weather.  Siding and windows are a close second, but your roof is always in the line of fire.  When the earth revolves, the sun shines on different sides of your house, which gives them some respite from the onslaught.  However, your roof is always the recipient of whatever the weather throws at it. Refuge Roofing & Siding will evaluate your roof, assess any damage and give you a free estimate for repair.
Minnesota Exterior Siding Repair
Even though your home's siding gets the occasional break from the direct impact of the weather, it is still on the exterior of your house and therefore takes a beating.  Refuge Roofing & Siding also offers a variety of siding choices that provide your home with the protection it needs.  We offer:
Vinyl siding
LP Smartside, which offers the look of wood with the durability of engineered wood.
Steel siding
Cedar siding
Vinyl/polymer Shake
All siding choices provide choice of color, texture, and appearance.
Window Repair and Replacement
Regarding windows, we install both Mastic windows and Andersen windows.  Repair and/or replacement of the windows you now have will almost certainly add energy efficiency and reduce outside noise, at a minimum.  Our window products are also installed with the same degree of exactness that Refuge Roofing has come to be known for.
For more information about our roof, siding and window services, call Refuge Roofing & Siding today at 651-PRO-ROOF.