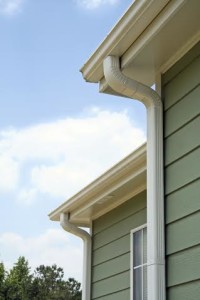 Living in Minnesota for even a year, you become accustomed to the extreme weathers we face – from blistering heat to bone freezing sub temperatures in the dead of winter. As a property owner, you need not only the best products but top rated contractors, as well, providing professional installation services. That is what you find here at Refuge Roofing & Siding, nothing but the creme of the crop when we come perform our gutter installation and storm damage repairs near Elk River MN! Our GAF materials provide long-lasting protection, just as does the warranty. When having a professional treat your well-deserved home or business – it shows! Just as noticeably as it does when it's done by another, inexperienced party. Our licensed and insured contractors are here for your benefit, don't let your prideful home fall into the hands of inexperienced other parties. If it is done right the first time, there should not have to be a second. Give us a call for your professional gutter installation services or storm damage repair needs today!
Professional Gutter Installation Services
Do you have a problem with your gutter seams leaking? What about the constant overflow-age caused by debris from sticks and leaves that build up? You're in luck, our professional seamless gutter installers are making the exterior of homes much more sleek and curb-appealing. Our dedicated contractors are performing gutter installation around Minneapolis helping others when they need a nice, free-flowing runoff system that limits the amount of standing water near the foundation of homes and businesses. Here is how:
Aluminum Gutters-With over 30 color options your seamless gutter system will have heavy duty brackets for the heavy snow or major rain downfall. Our kick out downspout option is very popular when you won't be seeing rain for days and want that extra room or less of an eyesore. Push the downspout towards the home and it folds in!
Gutter Screen/Covers- Mounted on the top of your horizontal, rain-catching gutter system our screens and covers for gutters will keep debris out and you off the roof! Our screens and covers work great to restrict animals, sticks, leaves, or even birds or bees building hives and nests. Having gutter screens and covers will save much time and headache down the road!
Storm Damage Repair Elk River MN
Often times, when noticing the need for storm damage repair, property owners tend to feel overwhelmed. Life is busy and 9 times out of 10 there's any other task you would rather perform than dealing with the insurance company or fixing the storm damage repairs yourself. That is why, here at Refuge Roofing & Siding, we are dedicated to our exterior specialties, such as storm damage repair near Elk River. Whether your roof has been pelted by hail or your windows knocked out from a tree branch, our highly qualified contractors are here to help you every step of the way. Give us a call today for your professional, hassle free estimate from one of our extremely skilled project managers (651) PRO-ROOF!
Save
Save