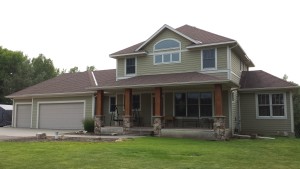 The end of summer is barely here and there is still plenty of time to tie up loose ends, or renew old siding corners! Having an Elk River siding contractor visit your property for a friendly, hassle-free estimate will give you an idea to at least know what you're looking like for in the future when you're ready, unless you're ready right now! With the help of our professionals and the dreams from your imagination, together we can create something new. If you are interested in up keeping your well-deserved abode while gaining money from doing so, contact us here at Refuge Roofing & Siding, for your next siding services. Your beautiful new custom siding will turn heads while the neighborhood is on their way to work and keep you smiling each time you pull up to your driveway. Give us a call today!
Siding Home Repair Styles
When renewing your home's siding or upgrading it to a whole new look there are a lot of options out there on the market to choose from for siding construction. Choosing the best materials for your home is something we can help with, but ultimately the final say is up to you! Our licensed and insured siding contractors, after the initial measurement, can go over with you our products and product types, here are a few just to tie you over until your appointment for your enjoyment:
Common Types of Siding
Vinyl- The traditional vinyl siding is always a great choice, affordable, durable, plus you can have the color of your choice put on. Having brand new vinyl siding put on your home will help increase your homes' worth too!
LP Smartside- LP® SmartSide® is a new, more durable wood-like siding product. Having its own anti-rodent and insect capabilities, your brand new LP® SmartSide® siding has a 50-year warranty. This upgrade would work great for new homeowners with growing family or when you intend to keep it in the family for generations, why not have the products to last with you!?
Cedar Shake- An elegant look for a cabin style but upgrading your roof to cedar shake will look great and perform astoundingly. Our professional cedar shake siding contractors have the experience to properly install this amazing choice in exterior eye candy.
Poly Shake- Vinyl polymer shake is durable, cost-efficient and a beautiful look for the whole house or even just in the gable ends. Having a modernized cedar shake like texture with the durability of today's amazing advancements your home will almost make you never want to leave!
With every siding job we do, we also offer our specialized Soffit and Fascia wraping. No matter the decision about which direction to go when it comes to changing up the exterior look our siding home repair contractors by Elk River, MN have every one of your needs met, you just need to know what you are looking for. Give us a call today here at Refuge Roofing & Siding for the best prices in the great state of Minnesota-(651) PRO-ROOF!
Save
Save