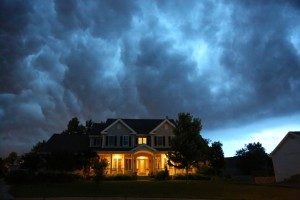 The worry of almost every homeowner is unexpected damage to their most important investment. Storm damage occupies a special place in the worries of homeowners because it tends to surprise us and is completely out of our control. If you receive a weather alert stating that you have an hour to prepare your house for possible damage, you can move all your deck furniture into the garage and secure your kids bikes in the crawl space. But there is nothing you can do to stop the wind from ripping the shingles off the roof, hail from damaging the siding, or tree branches from falling and damaging the structure of your house. The next best thing to preventing that kind of damage is to hire a company that will respond quickly, can repair the damage expertly, and will save you the hassle of working directly with insurance companies. Refuge Roofing & Siding is a trusted Exterior Home Storm Damage Repair Contractor in Elk River, MN.
Experienced Storm Damage Repair Company in Elk River, MN
Your home is your pride and joy. We understand, at the most basic level, that our homes provide basic protection from the elements. However, if that were the only function they served, we would not spend the time and money we do making them expressions of who we are. If we are lucky, we spend time and energy deciding on the perfect color for the exterior; we mow our lawns and trim our hedges; perhaps most importantly, we invite friends and family over on occasion to share the moments and experiences that go beyond the basic protection from the elements that our homes provide.
But severe weather tends not to care about such things. Virtually every homeowner has had the experience of worrying about potential damage, if not worrying about actual damage in the aftermath of a storm. Refuge Roofing & Siding has the experience and knowledge of roofing and siding repair, and other aspects of construction to return your home to the state it was in prior to the storm that damaged it.
Reduce Your Stress after Exterior Storm Damage
We are also qualified to help reduce or eliminate the stress of working with your insurance company. You have enough to worry about. We can reduce your stress further by lending you the other major area of our expertise, our knowledge of insurance processes. If your home has been damaged by a storm in any way, contact Refuge Roofing & Siding at 651-PRO-ROOF for help.