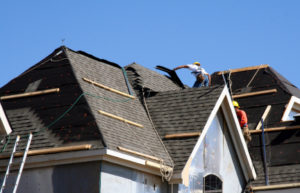 No one expects storm damage to actually happen to their home. We see it in movies and hear about it on the news, but there's no way that hail, wind damage, tornadoes, etc., will happen on your property, right? The truth is that Mother Nature is a powerful beast that no one has control over. So, if you've suddenly been impacted by exterior storm damage to your home, it is important that you have a team of repair experts on your side. There's no better exterior storm damage repair team to partner with than our experienced crew at Refuge Roofing & Siding. Our expert storm damage repair specialists and insurance claim evaluators will be able to evaluate your home in the East Bethel area right away.
Storm Damage Expert Inspection
From the minute you pick up the phone to make our staff aware of the storm damage that has occurred, we're on your side and ready to make sure that you are treated appropriately. More than likely, your plan is to get the insurance provider involved to help get these repairs handled. What you need to be careful with when dealing with the insurance company is that they are trying to pay for as few repairs as possible. The insurance company will ask you when you first contact them, were the damage is? They will note that in the file and assign a claims adjuster to you claim who will then come out and inspect YOUR Findings.
Insurance Company Approved Exterior Contractor
Homeowners in Minnesota have 1 year to file a claim, have it approved and repairs completed. An Insurance carrier's  claims adjuster is not required to point out, or fix anything they see on their own. That is why our expert inspection of your property after storm damage has occurred is so important. One of our expert storm damage repair specialists will promptly arrive at your property to inspect every inch of your home. We'll document every single repair that needs to be addressed. This will help make sure that none of the storm damage is ignored by the insurance adjuster.
Exterior Storm Damage Repair Contractor
At Refuge Roofing & Siding, we handle it all when it comes to exterior storm damage repairs. Did hail cause damage to your roof and gutters? Did the high winds cause your siding to break down? With over 50 years of combined experience, we can handle your storm damage repair needs, big or small. To top it all off, you are never responsible for more than your insurance deductible when it comes to partnering with Refuge Roofing & Siding, unless you decide on additional upgrades that aren't included in your storm damage insurance reimbursement.
When Mother Nature hits your property and you don't know where to turn for help after storm damage has occurred, all you have to do is call Refuge Roofing & Siding. With your best interests in mind, let our experienced and committed staff handle your exterior storm damage repairs. To request an expert inspection, call (651) PRO-ROOF.