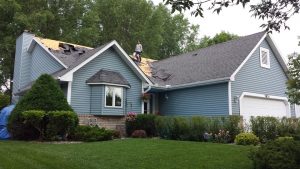 Refuge Roofing & Siding is a local roofing contractor that serves the community of Fridley, MN. Our team is a proud part of a small percentage of roofing contractors that are GAF-certified. This means that we work hard to install the highest quality roofing products and that we have done the hard work to earn the most important certification in the industry. The residents of Fridley, MN deserve nothing less. Our motto is "Your Roof Our Reputation" and we stand behind it.
We all know how important a roof is to a house. In fact, when we think about our own good fortune, it is common for us to use a phrase like, "we are lucky to have food on our table and a roof over our heads." A saying like this recognizes the essential qualities of things that are easy to take for granted. If we are fortunate enough to own a home, it is easy to take for granted just how important the roof is to our senses of safety, security, and well-being. Refuge Roofing & Siding does not take such things for granted. It is our job to help you take care of your roof so that you do not have to worry about leaks, water damage or other structural problems.
Fridley Roofing Contractor
Minnesota has harsh and unpredictable weather. We deal with snow and ice in the winter and strong thunderstorms and wind during other times of year. When it comes to roof repair and replacement, you can trust that our roofing contractors will be up front and honest with you about the damage that we see and our recommendations for repair. We understand that you must rely on us for accurate information, so we work hard to earn your trust. In addition to installing roofs that protect your home from inclement weather, the extremes of winter and summer temperatures, falling debris, and other hazards that threaten your roof, we can also help you add beauty to your home. Our roofing services do more than merely protect you from the elements; they give you many options to make your home look its best.
Minnesota Roofing Contractors
The materials that form the roofing structure of your home are strictly functional. Your choice of shingles, however, combines both function and form. You also have the ability to choose from a number of different styles and materials the shingles that will make your home look the way you want it to. From three-tab asphalt shingles to cedar shake roofing to architectural-style shingles to steel roofing, you have lots of styles and materials to choose from. We can provide an objective appraisal of the advantages and disadvantages of each one, and we will do so in order to help you make the best choice for you and your family. For more information or to schedule a roof evaluation, call us at (651) PRO-ROOF.