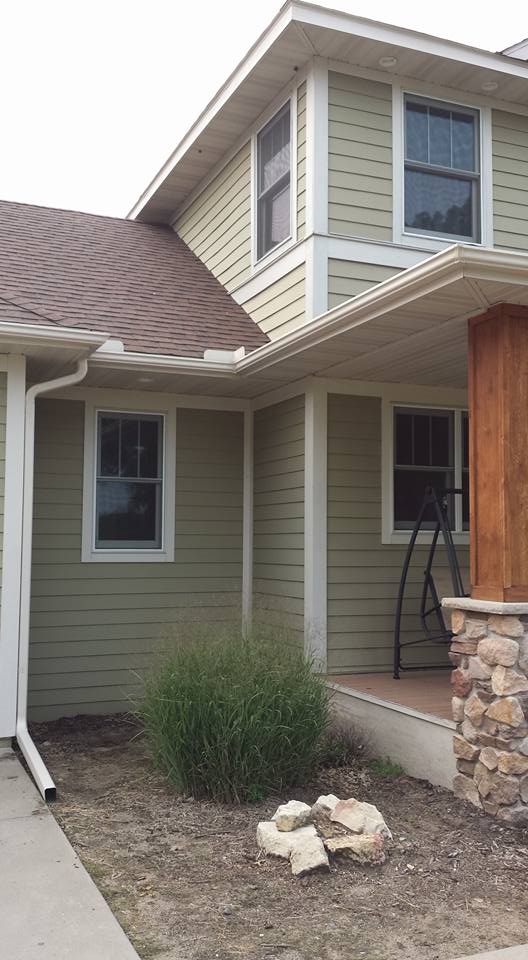 From critters to tree branches we have many potential opponents when it comes to having perfect seamless aluminum gutters near Minneapolis. Mother nature tends to take some toll on the water diverters quite often with her whipping winds and hazardous hail screaming from the skies at full blast. Having a dependable, licensed and insured company install your brand new gutter system assures that you, your home or business are in good hands. Our aluminum seamless gutters also have caps and screens to ensure debris or critters stay clear of the draining of ice, snow, or water. To have a certified project manager come out and inspect your home for new gutter installation around Minneapolis give us a call today!
Growing Trees? Gutter's Please!
If there are signs of vegetation growing from your gutter system, it is defiantly time to have your home measured for a new water run off arrangement. Do you see cracks, or rust spots near seams and spouts? Are there water marks underneath the gutters on the ground below? These are all signs of your home needing new aluminum seamless gutters. If standing water is in or above the gutter system or roof, over time the water, ice, or snow could cause a lot more problems from your shingles to your foundation. When water travels down it looks for the fastest route. Don't let it find a way through your home by having a clogged gutter system. For an estimate on seamless aluminum gutter replacement in Minneapolis, give us a call our professionals will come and see what we can do!
 Gutter Cap and Screens Installation
Having durable gutter screens installed around Minneapolis will help your gutter systems avoid all the falling debris. Which will keep the rest of the home dry and away from any possible water damage danger. Plus, have the relief that you do not need to grab the ladder or dangle from the roof to clean out the gutter system in the fall. Keeping your gutter system protected will prolong its life, keeping you dry in your home and saving big in your pocket. Give us a call today for any gutter screen & cap installations needed near Minneapolis today!
Residential/Commercial Gutter Installation
Our 5" seamless aluminum gutter systems installed in Minneapolis are done by professionals that know the industry inside and out. For our Commercial customers we recommend going with the 6" seamless aluminum gutter system you will not have those pesky rusted out seams that keep dripping on your customers or clients. Our hinged downspouts will give you easy accessibility to divert water away from the walkway during the rainy days or sunny winters. Then when you are not expecting precipitation the hinge will allow you to move the downspout out of the way for more foot traffic or even just simple as ridding of the eye sore. For your residential and commercial gutter installation needs around Minneapolis, give the professionals a call!