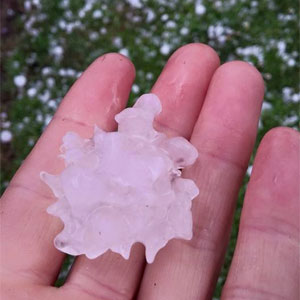 Hail damage — it's every homeowners worst nightmare! Unfortunately with the recent severe storms we've seen in Rush City, many homeowners in the area have to deal with the aftermath of these strong storms. If you've experienced what you think could be storm damage, Refuge Roofing & Siding offers full service Rush City hail damage repair as well as all types of exterior remodeling services. With an insurance claim specialist on staff we can not only handle any hail damaged home repair but we can also work directly with your insurance company as well.
Quick Facts About Hail Damage
According to the National Oceanic Atmospheric Administration, hail causes around $1 billion in damages to property and farm crops each year.
The states that have the highest risk of hail damage include: Iowa, Colorado, Minnesota, Kansa, Missouri, Oklahoma, South Dakota, Nebraska, Texas and Wyoming
The largest hailstone ever recorded measured 8 inches in diameter and over 18 inches in circumference. This huge hailstone was found in South Dakota in 2010.
According to the NOAA peak months for hail activity are from March – June.
Common Myths About Hail Damage
Myth: I've checked my roof and don't see any problems.
Fact: Your roof must be inspected by a trained storm damage contractor with experience in assessing hail damage. Without this training it can sometimes be very difficult to spot hail damage.
Myth: My insurance company will likely cancel my policy if I file a hail damage claim.
Fact: Many states prohibit an insurance company from cancelling your policy due to a severe weather event. It's best to check your policy to know for sure whether this is the case.
Myth: My roof is new so it's covered by the warranty from the roofing company or manufacturer.
Fact: Most manufacturers, roofing companies and builders specifically name hail damage as exclusion to their warranties. New roofs can actually be more susceptible to hail damage because they haven't had as long to cure after installation.
Expert Hail Damaged Home Repair Rush City MN
We hope this information will open your eyes to the damage that hail can cause to your home. If you would like for one of our experienced hail damage contractors to give you a free, no obligation estimate, call Refuge Roofing & Siding today at (651) PRO-ROOF. We'll work with you through the whole process and will be more than happy to work directly with your insurance company to ensure your needs are met.