Ice Dam Removal Minneapolis">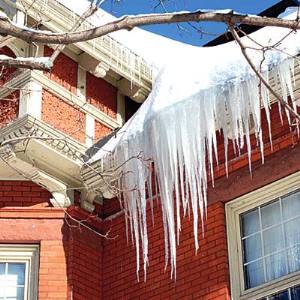 The Minneapolis, MN area is well known for the high amounts of snow and ice accumulation that hits this area year after year. If you own a home in Minneapolis, then it is important to know what to do when an ice dam occurs on your roof. The simple answer is to call our ice dam removal professionals at Refuge Roofing & Siding. The roof of your home is arguably the most important part of your property, so don't ignore an ice dam if it occurs during a winter storm.
Ice Dam Removal Minneapolis
Ice dam removal is not a simple process that you should try and tackle on your own. In fact, it can be dangerous, especially if you don't know what you are doing. So, keep that ladder stored in your garage during the snowstorm. The most important step for you is to call the professionals at Refuge Roofing & Siding to handle your ice dam removal needs. From there, our ice dam removal experts will come to your property and get to work on removing the ice dam from your roof. Since we remove ice dams so regularly around Minneapolis, we've got the right equipment to get it done efficiently and safely. By using a low pressure steamer, we remove the ice build-up from your roof. The steam warms up the ice and helps remove existing ice dams. At the same time, our ice dam removal services reduce the likelihood of another ice dam forming in the future.
Preventative Measures
At Refuge Roofing & Siding, we go a step further to ensure that your roof is not damaged from an ice dam. Our ice dam removal professionals take the time to speak to each client regarding preventative steps that they can take to lower the likelihood of an ice dam in the future. For instance, boosting the amount of attic insulation you have in your attic will significantly reduce the chances of an ice dam from forming. Additionally, if we find that your attic bypasses are open, we may recommend that you close off these bypasses to prevent heat from traveling to the roof of your home.
If an ice dam has recently formed on the roof of your Minneapolis home, don't underestimate the importance of calling ice dam removal professionals. To request a free quote on your ice dam removal needs and to keep your roof protected this winter, give Refuge Roofing & Siding a call today at (651) PRO-ROOF.