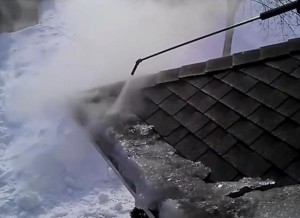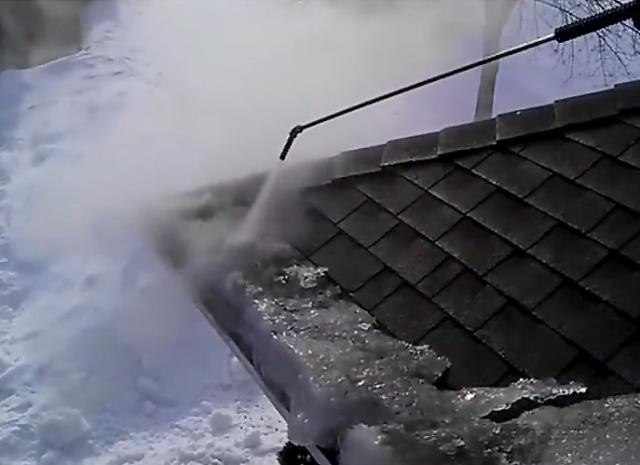 Frosty the snowman is a jolly happy soul! Tis the season for keeping those wonderful snowmen intact! AND the season for ice dams and icicles in the Princeton Minnesota area! With our fortunate mild temperatures in Minnesota during this time of year gives us an opportunity to be outdoors more often! On the other side with this mild temps and colder evenings we will all certainly be experiencing ice dams and icicle accumulations on our homes and businesses.
Ice Dam Solution in Minnesota
We are here to offer your solutions to those labor-intensive, time-consuming projects! We do offer safe, effective ways to remove those ice dams vs you taking the time out of your busy schedules with friends, family and work needs. Why risk your well being by those DIY jobs that require time, energy, equipment and safety. We can easily support you during this time of year! Not only do we offer ice dam removal we offer services to support prevention as well. As we know ice dams and icicle build up is a direct result of inadequate insulation in your roofing system.
Prevent & Remove Ice Dams Effectively
When our insulation in your attic or crawl space is not properly installed or the lack of insulation is not installed, will certainly result in excess ice dams and icicle build up. You may think that this is just fine and normal. However, with unattended build up of ice and snow on your roofing system can cause significant and irreversible effects. Expensive effects at that. That ice builds up gets underneath your shingles and can damage your shingles which will need replacing and damage your roof itself by the ever-changing ebb and flow of warm and cool temperatures.
That ice will melt underneath there and damage your roof and will then need a tear off and complete reroofing. Which we know how many thousands of dollars that expense is. We, of course, offer and are specialists in the roofing industry. We are committed to you preserving that roofing system as well by offering our ice dam removal services and proper, professional insulating services as well to prevent further destruction to your roofing system and preventing those ice dams all together!
Ice Dam Removal Contractor MN
So please, consider us for your insulation, ice dam removal needs! We are here to help you in your homes or businesses today! Happy Safe New Year in 2017!
Save
Save
Save
Save