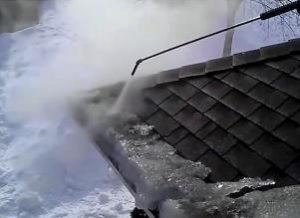 At Refuge Roofing & Siding, we understand that ice dams are a major problem during this time of year. For us, it's devastating to watch the news and hear the sad stories about those roofs caving in or roof leaks so bad that people can no longer stay in their homes. We certainly don't want your home to fall victim to something that we can take care of right away. If you are looking for ice dam snow removal in the Minnesota area, look no further than Refuge Roofing & Siding.
The Dangers of Ice Dams
Ice dams can be dangerous. They are formed through a repetitive cycle that happens all winter season. First, snow falls on your rooftop. As the temperatures rise during the day and the heat from your home comes through your attic and onto your roof, the snow may start to melt. However, once the temperatures plummet, that melted snow will quickly turn to ice. If left untreated, this cycle will continue until you have extremely thick layers of ice that form massive amounts of pressure and add weight onto your roof. This pressure will then begin to cause leaks that will soak through your attic, or worse, collapse your entire roof. Ice dams are dangerous and should be removed by experts only.
Ice Dam Snow Removal
At Refuge Roofing & Siding, we take ice dam snow removal seriously. We are a licensed and insured company that values the safety of our professionals and our customers. We will remove your ice dams using a low pressure steamer that safely delivers high temperatures and low pressures so that your roof is not damaged. We will then have our specialists evaluate your roof so that we can best help you find ways to help in ice dam prevention. From proper ventilation to extra insulation, we've got your property covered.
There is no need to literally have that weight hanging over you any longer. Ice dams are dangerous and they only get worse over time. Don't fall victim to the damages that ice dams can bring to your home. Let our experienced and licensed contractors take care of your ice dams as early as today. Whether you are looking for emergency ice dam snow removal or just calling for more preventative measures, let us discuss your options today. For more information about Refuge Roofing & Siding and our ice dam snow removal services, give us a call today at (651) PRO-ROOF.