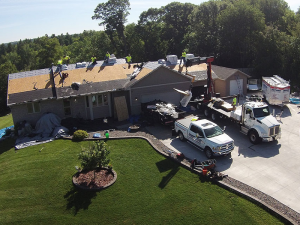 Owning a home is a wonderful part of the American Dream. Homeowners understand that our largest investment can also require periodic repairs. Your water heater can fail, exterior paint can peel, and/or your roof will eventually need repair work or even total replacement. This is all a part of homeownership, but there is no doubt that this can increase stress, even if it does not cause a disbelief in the beloved American Dream of home ownership.
Insurance Approved Roof Repair or Replacement
Refuge Roofing & Siding may not be able to help you with a failed water heater, but we can help you if problems develop with your roof. The help we provide is not limited to excellent quality of work. We can also take the stress out of having to deal with insurance companies. A large part of our long-term success as a leader in the roofing contracting industry stems from our knowledge of, and close work with, insurance companies. This quality of our roofing work is what separates us from other similar companies—you may be able to find dozens of companies that can do good roofing work. But you are not likely to find a company that possesses the combination of excellent quality of work and the knowledge to navigate the relationship you have with your insurance company. We understand exactly what insurance companies are looking for and can help navigate all communication with them. We have become an insurance approved roofing contractor, so you can feel confident that our work will be covered.
Minnesota Insurance Approved Roofing Contractor
We realize that most homeowners do not have the experience working closely with insurance companies without some level of difficulty. When we work with your insurance adjuster, our experience and expertise allow us to insure that your interests are fully represented. From a technical point of view, our deep knowledge of roofing repair and replacement facilitates communication with your insurance company and goes a long way toward ensuring that no detail is missed. As a result, we clear a path for your roof to be repaired or replaced (whichever is warranted by your specific circumstances) quickly, completely, and efficiently.
Licensed Roofing Contractor, MN
If the problem with your roof is more emergent—damage caused by a storm, for example—we can respond with lightning speed to get the necessary processes underway. If the problem is not emergent, we will still prioritize our work with you because that is an important component of our customer service commitment.
Contact Refuge Roofing & Siding by calling (651) PRO-ROOF we will be happy to begin working with you.