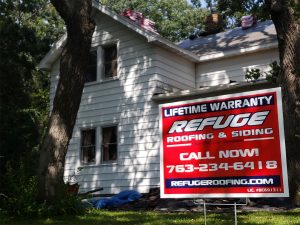 Have you noticed that the roof or siding on your home is finally showing its age? If so, it may be time to start looking for a roofing and siding company to perform this type of work. Knowing who to choose can be difficult, especially when scores of different companies show up with a simple internet search. Thankfully, the professionals at Refuge Roofing & Siding are more than up to the task of handling all your roofing and siding needs. We're fully licensed and insured to ensure your exterior needs are taken care of with the utmost professionalism.
Minnesota Roofing Contractor
Your roof is literally one of the most important components of your home. While often neglected, your roof is critical to protecting the structure of your home from the harsh Minnesota weather that we've all grown accustomed to. Not only is your roof an integral part of your home, but how it's installed is also incredibly important. Some contractors are more focused on getting your roof completed as quickly as possible as opposed to ensuring that your roof is installed properly the first time around.
At Refuge Roofing & Siding, we're focused on quality above anything else. This means that if your job takes us a bit longer than we anticipated, we'll stay until the job is complete. Don't be fooled by other companies who may use inferior materials, or are simply looking to complete each job as quickly as possible. We use only the highest quality asphalt shingles that will look great and keep your home protected for decades to come.
Minnesota Siding Contractor
Are you tired of having to paint your home every 8-10 years? Not only is painting expensive and time consuming, but when your home has wood siding it's exposed to the harsh Minnesota weather 365 days per year. Often when it comes time to paint, you'll also have to deal with rotten wood and other structural damage which can add up quickly! With high quality siding from Refuge Roofing & Siding, you can say goodbye to the paintbrush while protecting the exterior of your home, and saving on energy all at the same time! We use well-insulated siding panels, which can significantly cut down on your energy bills.
Reach Out to Refuge for All Your Roofing and Siding Needs
If you're interested in a free estimate for any of our roofing or siding services, feel free to give us a call today at 651-PRO-ROOF. We look forward to working with you soon.