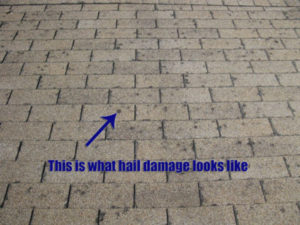 Do us a quick favor, will you? Take a quick look at all the images when you search the web for "hail damage." Even the smallest of hail storms can cause such a large problem for property owners. Did you see those roofs? Hail damage on a roof almost looks like tiny balls of fire coming in and ruining the integrity of the whole thing. What about those pictures of siding. Ouch – that looks rough! This is why if you live in Lino Lakes, MN, and you experience hail damage, it's important to have our phone number on hand. At Refuge Roofing, we are your local hail damage contractor that works hard to fix the problem, all the while staying in your storm damage budget.
Thorough Assessment
After a hailstorm, people immediately go out and check their cars. Unfortunately, what they should be doing is checking their home. If your car is dented with hail, it's likely that your home is too. Refuge Roofing has very skilled and trained storm damage consultants who will come out and assess your home. This is extremely important as some insurance companies will overlook what we have caught. We will examine every inch of your roof, cover the gutters and downspouts, and then thoroughly go over every part of your siding. We don't miss a thing so that when your insurance adjuster arrives, they won't miss it either.
Working With Your Insurance Company
Having hail damage is frustrating and dealing with the finances of it all can be downright impossible. So, let us do it for you! We work with all insurance companies and will let them know the damage we see before they even come out to look. We will send someone out when they come to help identify all the damage done and suggest a fair compensation price for the damage done. Negotiating a price with them is all done right then and there so that all you have to do is pay your insurance deductible. You will never have to pay more than the deductible for us unless you are looking to do further work!
As far as the repair goes, we will work hard to fix the damage as quickly as possible. We understand that you want to restore your home and we do too. With over 50 years of combined experience, we know how to get the job done fast while producing quality, lasting results. For more information about your Lino Lakes, MN hail damage contractor, call Refuge Roofing & Siding today at (651) PRO-ROOF,