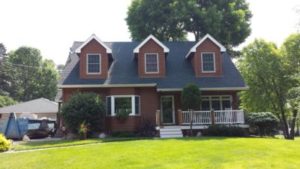 Looking for a roofing company in Lino Lakes? Refuge Roofing & Siding has you covered. We are a fully licensed and insured roofing company that is locally owned. Whether you are installing a new roof, replacing an existing one, repairing a damaged one, or assessing your roof after a storm, Refuge Roofing & Siding is here to help.
GAF Certified Roofing Contractor
We are proud to say that we are one of the only GAF Certified Minnesota roofing contractor's around. With only 3% of roofing contractors in the nation holding this certificate, we proudly show it off. To be certified, you must hit numerous amounts of criteria. Through licensing, training, certifications, and being insured, we hit all of the markers that make us part of the 3% in the nation.
Local Benefits
While we go above and beyond the national standards, it's also nice to recognize that we are a local Minnesota company that understands what it means to be 'Minnesota tough.' We understand that your roof needs to be able to endure the harshest of weather. It needs to be able to handle both -20 degree temperatures as well as temps in the 100's. It needs to be installed appropriately so that it can hold up in the many storms throughout the season. We understand these things because we live here and we live through these same storms with you. This is why when you call for a consultation, we will walk you through exactly what we recommend and give you a fair price.
Storm Damage
If the inevitable happens to your roof, our storm damage contractors are skilled to handle it with urgency. We will work with your insurance company to help you get the most out of your insurance claims. Storm damage to your roof can be a nightmare and a large financial burden. We will work hard so that you are never responsible for more than your insurance deductible. Unless that is, you want to make more upgrades.
Shingles
We will place any brand and style of shingles on your roof that you would like. For those that would like recommendations, we are a great resource of knowledge for which shingle style will best fit your roof. We typically recommend architectural style shingles over 3-tab shingling. This style, overall, creates a longer life expectancy for your roof and adds a dimensional look that's also aesthetically pleasing. We also install steel roofing and cedar shake roofing among many other styles of shingles. No matter what you choose, we have the knowledge to install it correctly.
For more information about your Lino Lakes Roofing Company, contact Refuge Roofing & Siding today at (651) PRO-ROOF.