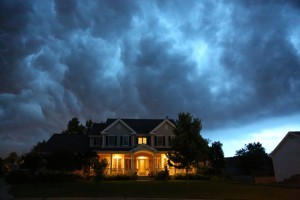 Most people likely associate Minnesota with long, cold, harsh winters. While winters can be brutal here, summers can be too. Minnesota also experiences summer storms that can include heavy rain, strong winds, hail, and isolated tornadoes, Maple Grove and other Minneapolis areas included. These storms can cause damage to home exteriors including roofs; damage which needs to be remedied quickly to avoid more extensive damage. Refuge Roofing & Siding, is ready to help assess your exterior for signs of storm damage, especially during these summer months where storms are more likely to occur.
Maple Grove Storm Damage Repair Contractor
When your home is damaged by a storm, you will need an expert contractor to quickly step in to fix any issues. If the damage is not repaired in a timely manner, the damage can easily spread and become a much larger headache than you may have initially expected. Refuge Roofing & Siding will amaze you with our attention to detail and quality of our finished product. When a storm causes damage to your home, we are ready to help you with the following repairs:
● Roof damage repairs
● Siding repairs
● Window replacement
● Gutter repair
Roofing Repairs
Damage to a roof following a storm can present itself as missing or damaged shingles or in wet spots on a ceiling. The important thing to remember about fixing a roof is that the sooner it is repaired, the better. When these damages are handled in a timely fashion, insurance will cover the cost because the damage is associated with a natural disaster.
Gutter Repairs
While gutters can be a pain to clean, they serve an important purpose to your home in that they move water away from your home's foundation to avoid water damage. If your gutters are damaged in a storm, Refuge Roofing & Siding can repair them, including seamless gutters and gutter covers.
Insurance Claim Repairs
When a storm causes damage to your roof, it is likely covered under your homeowner's insurance. When a claim is accepted as being storm related, your monthly rates will, under most circumstances, not be raised because it is weather related. At Refuge Roofing & Siding we have a team member dedicated specifically to handling any insurance claims questions and work.
Free Maple Grove Storm Damage Inspections
If you live in Maple Grove or any surrounding areas and are concerned about storm damage to your home, give Refuge Roofing & Siding a call. We will send a qualified specialist to your home, at a time convenient to you, to inspect the damage and go over necessary repairs. Call us today at (651) PRO-ROOF to set up an appointment.