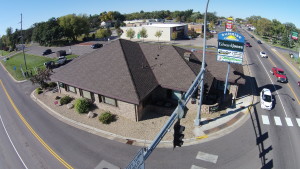 When looking for a Minneapolis commercial roofing contractor that you can trust to up hold your building with the best products and craftsmanship -, many choose Refuge Roofing & Siding for their local GAF roofing contractor. Our substantial amount of previous commercial roofing services that we have provided a constant reminder of our due diligence. Protecting your business should be up there when on tasks to complete throughout the day. Having a UN-protected property could create havoc on the rest of the establishment, causing more time away from your generated income. Let our professional commercial roofing contractor stop by your owned property for a hassle-free inspection today!
Professional Minneapolis Commercial Roofing Contractors MN
Our professional Minneapolis commercial roofing contractors are highly trained, certified, and insured roofing specialists. Our dedicated crew members ensure that your company's roof is well protected from the harshness Minnesota weather can bring. From beginning to the end, storm damage repair or preventative maintenance, having the comfort of an experienced roofing contractor perform the essential tasks of roofing will give you the satisfaction of maintaining a healthy and protected looking establishment. One that welcomes your customers. Our roof replacement services include:
Tear off
Weatherproofing
Drip Edge Installment
Shingle Installment
Capping Off for Finishing
Complete Disposal of Materials
Your company that has grown into what it is today, is already an achievement. Keep up the good work and appreciation in what you can offer to the public. Now, there is a lot on your plate when dealing with so much. Just ask yourself, "when has the roof been redone?" If it has been over 15 years, you may want a professional to stop by and take a look. There are many benefits to having a professional and insured Minneapolis roofing contractor work for you:
Curb Appeal
Protection From Elements/Invaders
Pride in Ownership
Maintenance
Storm Damage
Contact Us Today!
The sun is still out and the weather has been rather nice for us outdoors folk so we are still on roofs, contact us now to get your building looking fresh for the up coming holiday and shopping season! When investing into a vision such as creating a company, it must never stop. Keep thriving and ensure your property is properly protected by the exterior specialists you know and trust. Our many hours of generated knowledge through training courses on materials, installation references, and certifications provide us with a higher standpoint on what is truly best for your roof. When looking for experienced and exceptional exterior remodeling services, Refuge Roofing & Siding is right here waiting for you. Give us a call today and let us help fix up your exterior issues (763)234-6418!
Save